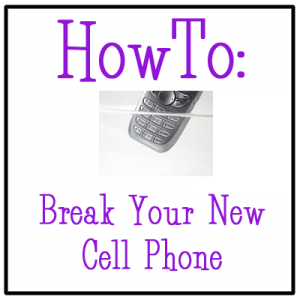 I have found the most efficient way to break a brand new cell phone and I wanted to share it with everyone!
First you will have to either have clothes to wash or bed sheets.  In my case I had to change my sheets so I decided to use them.
Make sure you take off all the non important things off of what you washing.  These would be things such as a phone charger, remote controls and other such things.
Grab what you are going to wash in a huge pile but make sure that you phone is in the pile.
Go and put the pile in the washing machine and turn it on.
Go back and try to find your phone & realize that there is a loud knocking noise coming from the washing machine.
Go back after about 5 to 10 mins and dig through all the wet sheets and find the phone.
That is all there is to it!  Just 7 little steps that I know anyone can follow.  Let me know how this works for you!
*As a side note the phone did actually work.  I did make sure that I put in a bag of rice for 24 hrs after it happened.  The screen looked like it had a baby growing in it but other than that you would be able to tell that I had washed it.  At least my phone was 100% clean and it did work until I got the money to get a new one sent.  I am sure it would have worked for a long time. 
*Oh and the bag of rice trick seemed to work great!

Copyright secured by Digiprove © 2012 Margaret Margaret