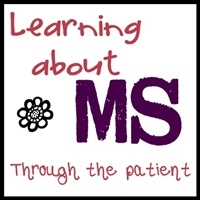 This week for MS Tuesdays I am going to talk about the  medications that I have taken to treat MS and why they didn't work for me.  I have tried quite a few of them and I hope that people that this might help someone who is having a hard time finding a treatment that may work for them.  Please don't base your choice for treatment on this post because just because something didn't work for me doesn't mean that it won't work for you.  My best advice to research them and then with the help of your doctor go with the one that you both think will work the best for you.
I have taken 3 treatments other than the Tysabri that I am taking right now.  I have taken Avonex, Betaseron, & Copaxone.  I am going to talk a little bit about each one and how the effected me while I was taking them.
Avonex- I started out on this medication when I was diagnosed at 15.  Let me just say that this medication I took on and off for years because it was the one medication at the time that had the least amount of shots a week that you had to take.  This medication was rough for me to say the least.  They say it has flu like symptoms.  The best way to descride how the medication made me feel for the whole weekend after I took it is my skin literally hurt to have anything touch it.  It didn't matter if I took the Benadryl like they told me to.  Every week I was sick all weekend and as time when on they said the reaction should get less and less but for me it got worse every week.  Like I said I tried this medication for years on and off because it was only taken once a week unlike all the other treatments at the time that are taken multiple times a week.
Betaseron-This medication is taken every other day.  So one this medication was literally sick everyday of my life because I never got used to the side effects of this medication as well.  This medications has the same side effects as Avonex has.  This one had an autoinject so that I could give myself the shot but me being me I couldn't push the button I would sit there for an hour and in the end someone would have to come and push the button for me.  I hate giving myself shots and since no one else wanted to give me shots this medication did last long either.
Here is the link to where I talk about all the interferon treatments they have.
Copaxone-Now this medication isn't an interferon so they thought that this one should work for me.  This medication is given through a shot everyday day.  Now this really didn't work for me because I couldn't give myself shots.  I think I tried this one for about a year but towards the end I wasn't taking it regularly because all the injection sites would get red and develop hives.  I will also say that at this point in my treatment I was being a stubborn teenager and I just wanted to ignore the disease and act like it wasn't part of my life.  Here is the link to the original post where I talk about all the possible side effects of this medication.
There are more than just these 3 medication out there for MS and last year the did release the first pill you can take for MS.  If you want to read more about that you can go and read this post where I wrote about it before.
The best advice I am give anyone is to research treatment options and then with the help of your doctor pick the one that will work best for you.
If you want to know more information or want me to write about something please let me know in the comments below.

Copyright secured by Digiprove © 2012 Margaret Margaret