FTC: I received a free copy of this book from Barclay in exchange for my honest review. I received no other compensation and the opinions expressed in this review are one hundred percent true and my own.
Wild Ride Cowboy by Maisey Yates was a good book but parts of it I was able to know what was going to happen next. I almost always say that with this genre of the book because I have read some many of them over the years that I know the patterns that most of the books follow. Even though I knew what was coming I still really enjoyed this book. One of the main reasons that I loved this book is because it had to do with the military and I always love those types of book. I had to smile at the things that Clara. I loved that she would always go and get coffee even though she hated coffee. If you love chick lit and want to read a book that was easy to read I am sure you will love this book just as much as I did.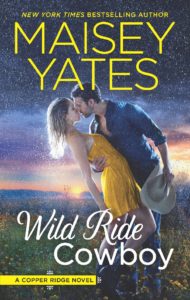 About The Book
Title: Wild Ride Cowboy
Author: Maisey Yates
Publisher: Harlequin
Release Date: August 29, 2017
Series: Copper Ridge #9
Genre: Contemporary Romance
ISBN: 9780373803644
He's come back to Copper Ridge, Oregon, to keep a promise—even if it means losing his heart…
Putting down roots in Copper Ridge was never Alex Donnelly's intention. But if there's one thing the ex-military man knows, it's that life rarely unfolds as expected. If it did, his best friend and brother-in-arms would still be alive. And Alex wouldn't have inherited a ranch or responsibility for his late comrade's sister—a woman who, despite her inexperience, can bring tough-as-iron Alex to his knees.
Clara Campbell didn't ask for a hero to ride in and fix her ranch and her life. All she wants is the one thing stubborn, honorable Alex is reluctant to give: a chance to explore their intense chemistry. But Clara has a few lessons to teach him, too…about trusting his heart and his instincts, and letting love take him on the wildest adventure of all.
Add to your TBR list:  Goodreads
Available:  Amazon  |  Barnes and Noble  |  Kobo  |  iTunes

About The Author
New York Times and USA Today Bestselling author Maisey Yates lives in rural Oregon with her three children and her husband, whose chiseled jaw and arresting features continue to make her swoon. She feels the epic trek she takes several times a day from her office to her coffee maker is a true example of her pioneer spirit. In 2009, at the age of twenty-three Maisey sold her first book.
Since then it's been a whirlwind of sexy alpha males and happily ever afters, and she wouldn't have it any other way. Maisey divides her writing time between dark, passionate category romances set just about everywhere on earth and light sexy contemporary romances set practically in her back yard.
She believes that she clearly has the best job in the world.
Website  |  Twitter  |  Facebook  |  Goodreads  |  Amazon  |  BookBub
Enter To Win
a Rafflecopter giveaway
Read An Excerpt

Copyright secured by Digiprove © 2017 Margaret Margaret