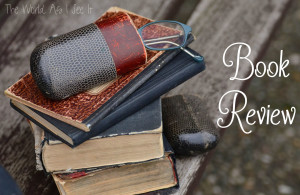 FTC: I received a free copy of this book from iRead Book Tours in exchange for my honest review. I received no other compensation and the opinions expressed in this review are one hundred percent true and my own.
The Fabergé Entanglement by Lesley Meryn and Elle Brookes was an intriguing book, to say the least.  I was hooked right from the first page, and I can't tell you why I loved the book as much as I did.    This book did keep me one the edge of my seat throughout most of the book.  During the first few chapters, I did find that I was getting come of the characters confused, so I felt like I was going back and trying to keep everyone straight but it only lasted for a few chapters and then I was able to keep them all straight.  I love when authors in this genre of books have a woman as one of the leading characters because not many authors do.  I also liked that Saber was a strong woman and able to hold her own when it came to the story.  I wasn't the biggest fan of Adrian through most of the book, but I love when that happens because it means that the author has made the characters life like and I always enjoy that.  If you love thriller type books than I am sure you will love this book just as much as I did.  They have it rated PG + M, but nothing in this book offend me in the least so I am sure that most people will be okay while reading this book.  If you have read this book what did you think of it?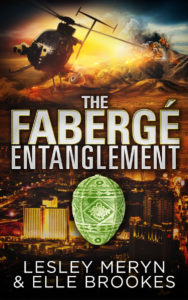 About The Book
Book Title: The Fabergé Entanglement by Lesley Meryn & Elle Brookes
Category: Adult Fiction: 306 pages
Genre: Suspense/Action/Romance
Publisher: Lisa Kolber
Release date: July 2015
Content Rating: PG + M (There is some, not much, bad language, sensuality, one alluded sex scene but not described, possible triggers for sexual abuse/non-consensual sex as a plot point, action-style violence)
Sabinne 'Saber' Darrieux's father, the billionaire CEO of Frontenac Global Security has been kidnapped. His ransom is not cash in a numbered offshore account, or a briefcase of Bearer Bonds but something utterly unique, incredibly valuable, and until recently, hidden away from the world.
The kidnapper seems to know Saber very well and knows that the next day, through her work as an elite translator she will be in the same location as the Object. She must steal the Object and deliver it to the kidnapper to ransom her father.
Adrian Steele, a British Intelligence agent has just come off of two harrowing missions. Upon returning to London for a well-earned rest, he learns that his friend and fellow agent has been murdered in Moscow, but not before he made use of a unique Object as a mobile 'drop site' for the valuable intelligence he was carrying.
The drop site is traveling from Moscow to England. Steele insists on completing the mission to honor the death of his friend, Gerry Cornell.
At an ultra-chic quasi-diplomatic gathering in a mansion in Windsor, England, Saber and Steele meet and find themselves faced with a powerful, undeniable attraction. But at the moment, this compelling attraction is very inconvenient.
In reality, they are at the mansion to check out the security arrangements — for their own reasons — to steal the Object, a Fabergé egg worth thirty million dollars. But who will get to the egg first?
Fabergé eggs are very famous for their unique surprises. Saber and Steele are about to be very surprised, indeed.
And when Saber clashes with Steele; more than sparks will explode!
About The Author
LESLEY MERYN
Enjoyed an exotic, adventure-filled childhood, following her anthropologist father and travel writer mother to the farthest corners of the world. She later took inspiration from her Aunt Sophia Francesca and became the author of romantic adventure novels. She alternates her time between Los Angeles, and a family property located in Yorkshire England.
ELLE BROOKES
She is the author of the first two books of the Time Frame Series, LUST. MECHANICS. MINI COOPER. and SEX. COFFEE. TIME TRAVEL. Loves travel, discovering new foods to try, reading and writing. She currently lives in the central highlands of Costa Rica with her dog Pixie and her hedgehog Quiller.
Connect with the Author: Website ~ Facebook ~ Twitter
Buy A Copy
Enter To Win
a Rafflecopter giveaway

Copyright secured by Digiprove © 2017 Margaret Margaret