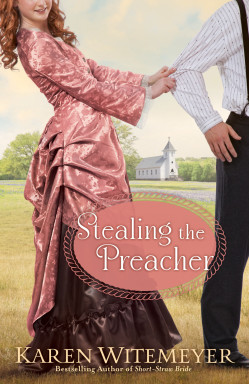 "Stealing the Preacher" by Karen Witemeyer was a super cute and a fun read. From the first page of this book I was hooked and didn't put it down until I finished reading it. It has a unique storyline and that made me like it even more. The book starts by following Crockett as he is on his way to try out for a preaching job. While he is on the train it gets held up and they "kidnap" him because Joanna told her dad that she wanted a preacher for her birthday. There are times where I had to laugh at what was going on and other times where I was sad for the characters. This is the first book I have read from this author and I honestly can't wait to read more. I love how I felt like I was there with the characters.
About The Book
A cowboy who wants to be a preacher. An outlaw's daughter who wants to change his mind.
On his way to interview for a position at a church in the Piney Woods of Texas, Crockett Archer can't believe it when he's forced off the train by an outlaw and presented to the man's daughter as the preacher she requested for her birthday. He's determined to escape-which would be much easier if he could stop thinking about Joanna Robbins and her unexpected request.
For months, Joanna had prayed for a minister. A man to breathe life back into the abandoned church at the heart of her community. A man to assist her in fulfilling a promise to her dying mother. But just when it seems her prayers have been answered, it turns out the parson is there against his will and has dreams of his own calling him elsewhere. Is there any way she can convince Crockett he ended up right where he was supposed to be?
With her signature blend of humor, history, and lively western romance, two-time RITA Award finalist and bestselling author Karen Witemeyer delivers a Texas love story sure to steal your heart.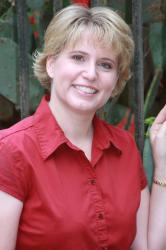 Two-time RITA finalist and winner of the coveted HOLT Medallion and ACFW Carol Award, CBA bestselling author Karen Witemeyer writes historical romance because she believes that the world needs more happily-ever-afters. She is an avid cross-stitcher, shower singer, and bakes a mean apple cobbler. Karen makes her home in Abilene, Texas, with her husband and three children. Learn more about Karen and her books at www.karenwitemeyer.com.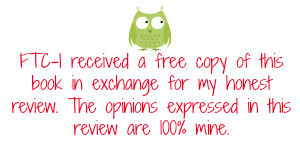 Copyright secured by Digiprove © 2013 Margaret Margaret