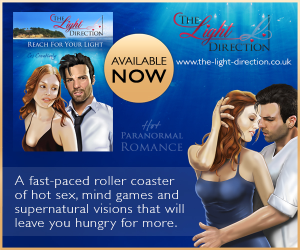 Reach For Your Light by Ces Creatively was an interesting book to read. I am still not sure how I really feel about this book but that is okay with me. I really did enjoy the author's style of writing but there were times where things almost seemed rushed. There were times where I got confused because of the supernatural parts of the book but I believe that is because I am not a huge fan of supernatural books but that didn't make me want to stop reading the book. Other than those times this was a good book to read and something that I am glad that I read.
About The Book
Emma Williams is searching for a new direction. Leaving behind a dead end career and harrowing relationship in London, she makes a fresh start in Bournemouth bonding immediately with flat mate Denzil and enjoying coastal life.
Falling in love with delicious Jeremy White she soon discovers that her new life is not as uncomplicated as she'd hoped. It may look like she has the perfect beach apartment and gorgeous man of her dreams but when visions of a mysterious stranger become reality and manipulating exes are out to cause trouble in paradise, Em just wants to find the truth in a world of deceit.
The Light Direction will take you on a fast-paced roller coaster of hot sex, mind games and supernatural visions that will leave you hungry for more.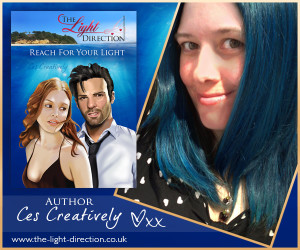 About The Author
Ces Creatively is an inspiring mum of three from Poole who loves to spend time at Poole Harbour, Sandbanks Dorset. Juggling being a mum with running graphic design business www.biz-brand-buzz.co.uk, popular website with a book blog www.supportivebusinessmums.co.uk and hand made gifts business www.prettyinspiring.co.uk she miraculously also finds time to write www.the-light-direction.co.uk novel series which she has dedicated to her son in heaven. A tireless champion of small businesses and other authors, Ces has won several awards for supportive innovation and dedicates time every week to promoting others online. In a unique twist, her debut paranormal romance novel The Light Direction – Reach For Your Light features real small businesses and talented creatives.
Buy Your Copy Here
Enter This Great Giveaway
a
Rafflecopter giveaway
Excerpt

Copyright secured by Digiprove © 2014 Margaret Margaret