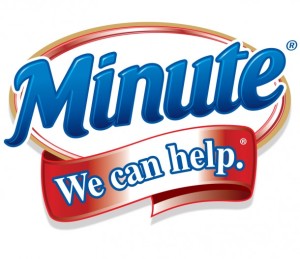 When I was approached to do this review I was super excited because I eat tons of rice and I am always on the look out for quick and easy things I can throw in my purse to eat for lunch while I am at work during the week.  They have tons a great "recipes" of things that you can mix in with all the different kinds of Minute Ready to Serve Rice.  They have 10 different kinds and flavors.  I chose just to get the white rice kind because it was the one that I felt I could mix with the most things and everyone knows I am all about options.  Here is what I chose to do with the first one.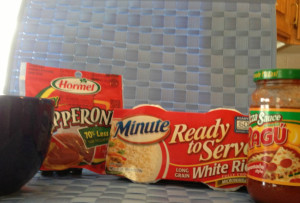 I made pizza rice because I just happened to have pizza sauce because I recently bought some gluten-free pizza crusts and I still had left over sauce and pepperoni that I could use.  I used another bowl to mix it all up in because I didn't want make a mess and I wasn't sure if the little container that the rice came in was going to be big enough.  I didn't measure anything I just put enough sauce in until it look good enough and then I add the cheese and pepperoni.  I did cut up the pepperoni into little pieces because I figured that if I left them like they came they would be too big and I was glad that I did cut them up.  Here is a picture of the cheese and pepperoni before I mixed them in.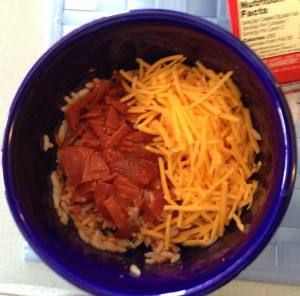 I mixed them in and then I warmed it up for a few more seconds because I wanted the cheese to melt and what not.  I really did enjoy this one and I know that I will make it again that is for sure.  This literally only took minutes to make and it was great tasting.  I am going to make rice pudding tonight.  All you have to do is warm up the rice and then add one vanilla pudding cup to it with raisins and you have a great desert.
These also are great for lunches because they are affordable.  They are by far cheaper than fast food and they are better for you as well.  These have become my new go to lunch items because of the price and they are better for me than other things that I eat for lunch.  They also make great deserts as well.  If you are looking for quick and easy lunch items check this out and I know you won't be disappointed.
Minute® Ready to Serve Rice is an ideal portable solution for lunch or breakfast because you can eat it on the go, straight from the cup. In just 60 seconds, you have fully cooked rice for any meal or snack. You'll never get bored with your lunch since there are 10 flavorful and wholesome varieties. If you're looking for a healthy option, Minute® Ready to Serve Rice provides easy portion control since it's conveniently packaged in two individual single-serve cups.

Visit http://www.minuterice.com/ for recipes, including Minute® Ready to Serve Stir it Up recipe ideas and more information about the Minute® Rice family of products.

This is a sponsored post written by me on behalf of Minute® Ready to Serve Rice.

Copyright secured by Digiprove © 2013 Margaret Margaret