I received the first 2 books in the Home To Heather Creek to review and I have to say that I loved both of the books. I am going to talk about the books on their own so that you can decided if you want to read either of them or both of them. In the Before The Dawn you get to see the struggles of teenagers and their mothers parents who have stepped up to raise the children after their daughter and the children's mother was killed. I have to say that I really loved the first book. There are parts where I was bored and I think could have been cut out but all in all I was a good book and I was excited to see what happened in the next book. Sweet September starts at the end of summer just as the kids are going back to school. I have to say that I loved this book more than I liked the first one and I am not sure why. I know this one was written by a different author and I think that may have something to do with it. I hope there are more books in this series because I love these characters and I was sad when I finished this book.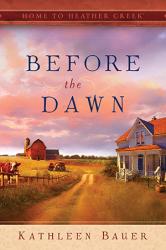 Before the Dawn
Before the Dawn begins just one week after the funeral of Charlotte's daughter, Denise. Denise's three children barely have time to process the death of their mother before they must move to the Heather Creek Farm they have never visited with grandparents they barely know. At age 16, Sam is fiercely protective of his younger siblings. Emily is 14 and desperately misses her friends. Young Christopher is only 8 and just wants to fit in. While Charlotte tries to help her grandchildren adjust to their new life, she also wrestles with her own grief and the enormous task of bringing her family together. Bob believes the fastest path to adjustment is a firm routine, with structure and chores, the same way they raised their own kids. However, that route led to Denise running away from home as a teenager and an estranged relationship with her family. Charlotte is worried about making the same mistakes she made with Denise. Is this her chance to make things right?
It is spring when the children arrive, and as Charlotte looks around the farm, she hopes the new life around them will signify hope and healing. The miracle of new life, along with God's healing touch, reminds all of them that it's always darkest just before the dawn.

Sweet September
Sweet September picks up at harvest time, as the children are settling into a new school year. While the harvest should be an exciting time, the children don't seem to be getting into the spirit. Emily is struggling with farm life, Christopher spends most of his time alone, and Sam is failing school. Trying to learn from what did and didn't work with her own kids, Charlotte is determined to get her grandchildren back on track.
As tenuous family bonds threaten to break apart, a mystery on the farm might be the one thing that can bond the family together. Charlotte sets out to uncover the truth, and as the kids unite to find answers, this cobbled-together family learns more about one another and the love that binds them together.
The lives of the Stevensons and their grandchildren unfold in this captivating story of the remarkable change that comes from the love of family, the kindness of others, sheer persistence and unshakable faith. As readers follow the Stevensons' inspiring stories, it's almost impossible not feel a part of this friendly, loving community, where God's grace can be seen in every circumstance.
About The Author
Kathleen Bauer is the pen name for a team of writers who have come together to create the Home to Heather Creek series.

Copyright secured by Digiprove © 2013 Margaret Margaret