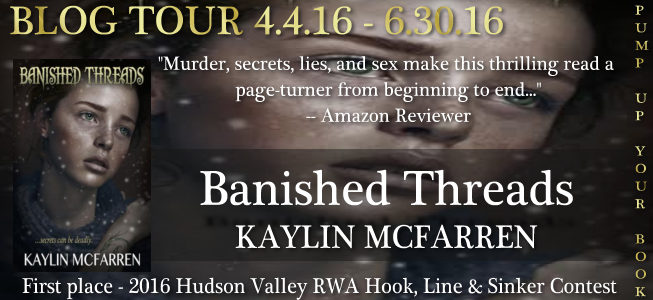 FTC: I received a free copy of this book from PUYB in exchange for my honest review. I received no other compensation and the opinions expressed in this review are one hundred percent true and my own.
Banished Threads by Kaylin McFarren was an interesting book, to say the least. This is the third book in the series and the first one that I have read. I don't think you need to read the other books to understand this book, but it may help you understand the back story, but I was able to figure out what was going on without having to read the other two books. I enjoyed this author's style of writing and how she was able to make me understand what was going on and give just enough of the back story from the other books so that you know what is going on but not so much that people who would have read the other books would have been bored. I enjoyed this author writing, but I don't think I will pick any of the other books in this series because I wasn't the biggest fan of the plot of the book. I may check out other books by her though in the future.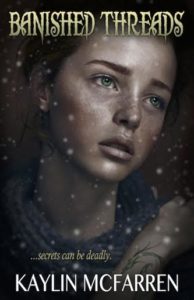 About The Book
Title: Banished Threads (Book 3 – Threads Series)
Author: Kaylin McFarren
Publisher: Creative Edge Publishing LLC
Pages: 258
Genre: Romantic Suspense
A valuable art collection disappears turning a treasure-hunting duo into crime-stopping sleuths committed to vindicating family members in Kaylin McFarren's action-packed suspense novel, Banished Threads.
While vacationing at the stately Cumberforge Manor in Bellwood, England, Rachel Lyons and Chase Cohen attend an elegant dinner party hosted by her uncle, Paul Lyons, and his aristocratic wife, Sara. Before the evening ends, a priceless collection of Morris Graves's paintings are stolen from her uncle's popular gallery, throwing all suspicion onto his wife's missing granddaughter. Determined to clear Sloan Rafferty's name and, in the process, win Paul's favor, Chase scours the countryside looking for answers. In his absence, the police accuse Rachel's uncle of an unsolved murder and secrets surrounding her grandmother's death and the deaths of Sara's former husbands turn his wife into the most likely suspect.
With the true villains hell-bent on destroying Paul Lyons and his family, solving both crimes while ensuring her uncle's freedom not only endangers Rachel's life but that of her unborn child. Will Chase save them before the kidnappers enact their revenge or will the ultimate price be paid, as predicted by a vagabond fortuneteller?
First place – 2016 Hudson Valley RWA Hook, Line & Sinker Contest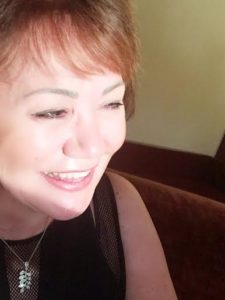 About The Author
Kaylin McFarren is a California native who has enjoyed traveling around the world. She previously worked as director for a fine art gallery, where she helped foster the careers of various artists before feeling the urge to satisfy her own creative impulses.
Since launching her writing career, McFarren has earned more than a dozen literary awards in addition to a finalist spot in the 2008 RWA Golden Heart Contest. A member of RWA, Rose City Romance Writers, and Willamette Writers, she also lends her participation and support to various charitable and educational organizations in the Pacific Northwest.
McFarren currently lives with her husband in Oregon and visits her second home in California once a month. They have three grown daughters and two grandchildren, and look forward to having more.
Her latest book is the romantic suspense, Banished Threads.
For More Information
Gift Basket Giveaway!
Kaylin McFarren is giving away a Gift Basket (Value $135)!
This gift basket includes Collectible English tea cup & saucer set, nautical compass, rare Morris Graves' artwork catalog, and Cadbury English toffees.
Terms & Conditions:
By entering the giveaway, you are confirming you are at least 18 years old.
One winner will be chosen via Rafflecopter to receive the gift basket.
This giveaway begins May 9 and ends on June 30.
Winners will be contacted via email on June 31.
Winner has 48 hours to reply.
Good luck everyone!
ENTER TO WIN!
a Rafflecopter giveaway
Excerpt

Copyright secured by Digiprove © 2016 Margaret Margaret