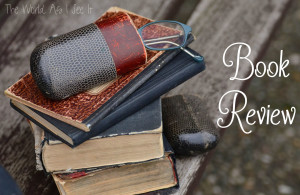 FTC: I received a free copy of this book from the author in exchange for my honest review. I received no other compensation and the opinions expressed in this review are one hundred percent true and my own.
Holiday Wishes by Jill Shalvis was a sweet story.  I was sad that this was just a novella because I wished it had been a full book.  I really enjoyed this story and the characters in this book.  I did feel like this book was rushed, but that always seems to be the case with novellas.  The authors all seem to rush everything, and I wish that they would just make them full novels because I hate them being so rushed but I also understand why it happens.  If you are looking for a sweet Christmas story to read I would give this one a shot and then let me know what you think.  What Christmas books do you love this year?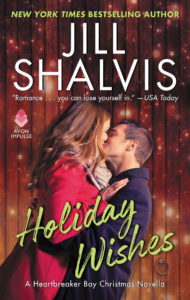 About The Book
It's Christmastime again in Heartbreaker Bay!
When Sean O'Riley shows up at the Hartford Bed & Breakfast for his older brother's bachelor weekend, he's just hoping to make it through the weekend. What he's not expecting is to come face to face with the woman he lost his virginity to a decade ago—a woman he's never really forgotten.
The last time Lotti Hartford saw Sean, she told him she loved him while he said nothing. Now, ten years later, she's just looking for a good time. For once, she wants to be the wild and free one, and Sean – the good time guy – is the perfect candidate.
But as the weekend continues, Sean realizes that after a lifetime of being the hook-up king, he's ready to find happily-ever-after, and he wants it with Lotti. But will she open her heart to him again? As Christmas sweeps through the little B&B, he can only hope love and magic are in the air.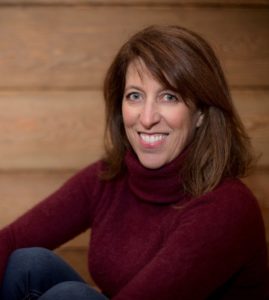 About The Author
New York Times bestselling author Jill Shalvis lives in a small town in the Sierras full of quirky characters. Any resemblance to the quirky characters in her books is, um, mostly coincidental. Look for Jill's bestselling, award-winning books wherever romances are sold and visit her website, www.jillshalvis.com, for a complete book list and daily blog detailing her city-girl-living-in-the-mountains adventures.
Connect with Jill
Facebook: @JillShalvis
Twitter: @JillShalvis
Buy A Copy
Read An Excerpt
At the empathetic tone in Sean's voice, Lotti's heart and stomach and head all clenched in unison. "What do you mean you can't give me what I want?" she asked. "All you have to do is walk away."
"Tried that already," he said. "And it was the biggest mistake of my life." He brought her hand up to his mouth and met her gaze over their entwined hands.
He was looking at her like . . . well, she wasn't sure what was going on in his head, but her thoughts were racing along with her pulse.
"You're incredible, Lotti. I hope you know that." Very slowly, clearly giving her time to object, he pulled her into him.
Her breath caught at the connection and his eyes heated in response as he slid a hand up her spine and then back down again, pressing her in tight to him from chest to thighs and everywhere in between. His nose was cold at the crook of her neck, but his breath was warm against her skin. She felt his lips press against the sensitive spot just behind her ear and she shivered. "You're trembling," he said, his voice low. "Are you cold?"
"No," she whispered. Try the opposite of cold . . .
"Nervous?"
"No." Not even close. The way his mouth moved across her skin was making her warm all over. Not that she could articulate that with his body pressed to hers and his fingers dancing over her skin. She was literally quivering as the memories of what it felt like to be touched by him washed over her, as if no time at all had gone by.
Yes, she'd let him think that their time together had sucked for her. But it hadn't. Not even close. That long-ago night he'd evoked feelings and a hunger in her that she'd never forgotten. "I've just had a long day," she said.
"I know. I'm going to make it better." He pressed a kiss at the juncture of her jaw and ear before he made his way to her lips for a slow, hot kiss, his mouth both familiar and yet somehow brand-new. She was so far gone that when he pulled back she protested with a moan, but he held her tight, staring down at her with heated eyes. "Just checking," he murmured.
"Checking what?"
"That you want this as badly as I do."

Copyright secured by Digiprove © 2017 Margaret Margaret