Divorced mom, Mia Gibbs' family is her life, but her world is turned upside down when she falls for her one-time teenage crush Nick McGuire, a workaholic lawyer who isn't a family man. Fans of Susan Wiggs' The Lakeshore Chronicles will love this heartwarming friends to lovers story releasing this summer from Grand Central – Forever.
About The Book
Title: Summer on Firefly Lake
Author: Jen Gilroy
Genre: Contemporary Romance / Women's Fiction
Release Date: July 25, 2017
Publisher: Forever – Grand Central Publishing
Series: Firefly Lake
ISBN: 9781455569601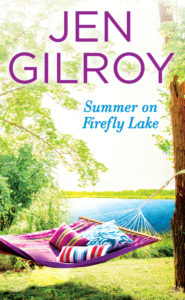 Sometimes love is better the second time around.
Mia Gibbs spent her marriage putting her husband's needs before her own. And now, after a painful divorce, she's building a new life for herself and her two daughters back home at Firefly Lake. The last thing she needs is a man to complicate things. But former bad boy turned friend Nick McGuire has turned everything upside down.
Attorney Nick McGuire wasn't meant to be a family man. His career has always been his focus, and after taking time out to help his mother, he's ready to get back to the city…until Mia and her daughters arrive at Firefly Lake. Mia is beautiful and intriguing, and it doesn't take long to realize being "just friends" will never be enough. As the summer nights turn colder, Nick will have to choose between the life he's always wanted…and the woman he can't live without.

About The Author
Jen Gilroy lives in a small town in eastern Ontario, Canada where her Irish ancestors settled in the nineteenth century. She's worked in higher education and international marketing but, after spending too much time in airports and away from her family, traded the 9-5 to write romantic women's fiction to bring readers' hearts home.
Jen likes ice cream, diners, vintage style and all things country. Her husband is her real-life romance hero, and her teen daughter teaches her to cherish the blessings in the everyday.
The Cottage at Firefly Lake, the first book in her Firefly Lake series, was a finalist for Romance Writers of America's Golden Heart® award in 2015. It was also shortlisted for the Romantic Novelists' Association Joan Hessayon Award 2017.
Website  |  Twitter  |  Facebook  |  Goodreads  |  Amazon
Add to your "Want to Read" shelf:  Goodreads
Available at:  Amazon  |  Barnes and Noble  |  Kobo  |  iTunes
Enter To Win
a Rafflecopter giveaway
Excerpt
"I want this." Mia lifted her face to his as a cloud scudded across the moon. "I want you."
Even if it could only be for tonight, she was Mia, not a mom, not a sister, and not a wife who'd been tossed aside for someone younger and curvier. For this one moment, she didn't have any responsibilities except what she wanted and needed.
I want you, too." Nick took her hand and led her toward the car. "A part of me has wanted you since I was fifteen and you hung out at the town beach in that green bikini with the white flowers."
Her heart lurched. He'd noticed her enough to remember the bikini she'd hidden from her mom. The one she'd bought because she'd heard Nick say he liked green. "You were always with the guys by the life guard station." Everything about him was a lot sexy and a little bit dangerous.
"I wanted to see you." His smile was forced, like the admission cost him more than he wanted her to know.
Mia curved her cold hand into his warm one. She'd guessed she'd hurt him the one time they'd gone out, but until tonight she hadn't understood how much. She couldn't regret the past, and she couldn't predict the future, but she could do something about the present. "I want to be with you. Even though we're not teenagers anymore and I don't have that green bikini.
Nick's gaze skimmed her body from head to toe and lingered at her breasts. Then he gave her a grin that was pure bad boy. "I was always a lot more interested in what was underneath that bikini anyway."
He opened the passenger door for her to slide in.
She looked at him from under her lashes and flirted like she'd wanted to do all those years ago but had been too shy. "You were, were you?"
"Oh yeah." He shut the car door and, in the sudden silence, panic rolled over her again. Except, there was excitement too…
Copyright © Summer on Firefly Lake 2017 by Jen Gilroy

Copyright secured by Digiprove © 2017 Margaret Margaret