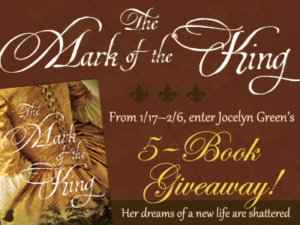 FTC: I received a free copy of this book from Litfuse in exchange for my honest review. I received no other compensation and the opinions expressed in this review are one hundred percent true and my own.
The Mark of the King by Jocelyn Green was an okay book.  At times I did find myself getting bored with this book and I also felt like from time to time I got lost because I had a hard time focusing on this book.  For some reason, I just could get into this book.  I am not usually a huge fan of historical fiction books, but I had a hard time stay engaged with this book.   This is the first book I have read this book and because I had such a hard time staying interested in this book I don't think I will read her books in the future.  I think I am going to hang on to this book for a few years and see if when I try and read it again if I don't enjoy it more next time.  If you enjoy historical fiction books, I would say to read an excerpt of this book before you buy it or see if your local library has a copy of it that way if you don't enjoy it you would be out any money.
About The Book
Sweeping Historical Fiction Set at the Edge of the Continent
After being imprisoned and branded for the death of her client, twenty-five-year-old midwife Julianne Chevalier trades her life sentence for exile to the fledgling 1720s French colony of Louisiana, where she hopes to be reunited with her brother, serving there as a soldier. To make the journey, though, women must be married, and Julianne is forced to wed a fellow convict.
When they arrive in New Orleans, there is no news of Benjamin, Julianne's brother, and searching for answers proves dangerous. What is behind the mystery, and does military officer Marc-Paul Girard know more than he is letting on?
With her dreams of a new life shattered, Julianne must find her way in this dangerous, rugged land, despite never being able to escape the king's mark on her shoulder that brands her a criminal beyond redemption.

About The Author
Jocelyn Green inspires faith and courage as the award-winning author of ten books to date, including Wedded to War, a Christy Award finalist in 2013; Widow of Gettysburg; Yankee in Atlanta; and The 5 Love Languages Military Edition, which she coauthored with bestselling author Dr. Gary Chapman. A former military wife herself, her passion for military families informs all of her writing as well as her numerous speaking opportunities. Jocelyn graduated from Taylor University with a BA in English and now lives with her husband and two children in Iowa.

Copyright secured by Digiprove © 2017 Margaret Margaret