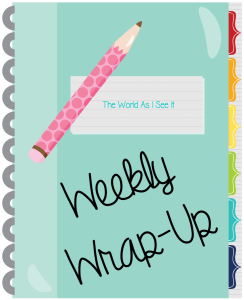 It has been a few weeks since I have posted one of these so this is going to be a long one. Let's just get right into the links.
Playing The Part by Jen Turano
Charles R. Swindoll-Quote Of The Week
A Jingle Valley Wedding by Martha Reynolds
Multiple Sclerosis Update-March 2016
Breaking The Story by Ashley Farley
Leaving Barringer by Tina Martin
The Secret Life of Charlotte Dodd by Holly Kerr
Back In The Saddle by Ruth Logan Herne***Updated Review***
Guessing At Normal by Gail Ward Olmsted
In The Context of Love by Linda K. Sienkiewicz
Theodore Roosevelt-Quote Of The Week
Blackbird Summer by Em Shotwell
Jeep Tour by Gail Ward Olmsted
Those are all the links from the past few weeks in case you missed any of the posts.  I have tons of reviews coming up and a small post about the treatment I am taking for my Multiple Sclerosis so keep your eyes open for that in the next few weeks.

Copyright secured by Digiprove © 2016 Margaret Margaret