FTC: I received a free copy of this book from in exchange for my honest review. I received no other compensation and the opinions expressed in this review are one hundred percent true and my own.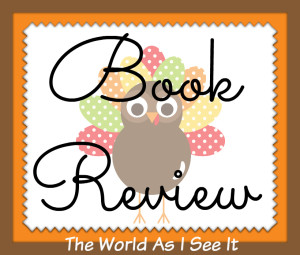 A Moment of Weakness by Karen Kingsbury was a book that at first I didn't like but by the end I loved the book and the characters. This is the second book I have read by this author and I have fallen even more in love with this author than I was before. I wasn't a huge fan of Jade and Tanner's parents throughout the entire book. I know it is because of how they acted towards each other and if I am being honest small town crap just bugs me. I really did like Jade and Tanner though so that made reading the book not so bad. This is the second book in the series but you don't have to read the books in order so if you just want to read this one you won't be lost. This book was a super easy read and one that I was able to read in a couple of days so you don't have to commit tons of time to read this one. If you love chick lit I know you will love this book as much as I did.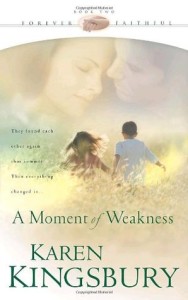 About The Book
Had they found each other again after all these years, only to lose everything that matters most?"
"As children, Jade Conner and Tanner Eastman were best friends–until scandal drove them apart. Then, one golden summer, they find each other again. Through endless days they share their hearts and souls and dreams of forever. Then, in a moment of weakness, they make a decision that will tear them apart for nearly a decade.
In their own separate corners of the country, Jade and Tanner have become fighters for religious freedom. Now Jade's unfaithful husband is determined to destroy her in a custody battle that will rock the nation and shake people's understanding of faith and freedom. Could Jade lose her only child because of her faith? Only one man can help her in her darkest hour. And only one old woman knows the secret about that summer and the truth that can set them all free."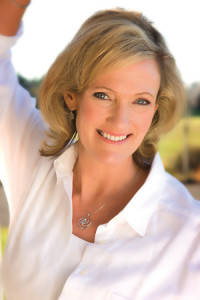 About The Author
USA Today and New York Times bestselling author Karen Kingsbury is America's #1 inspirational novelist. There are more than 15 million copies of her award-winning books in print, including several million copies sold in the past year. Karen has written more than 40 novels, ten of which have hit #1 on national lists.
Karen has a true love for her readers, and she has nearly 100,000 friends on Facebook along with more than 7,500 followers on Twitter. The popular social networking sites have allowed Karen daily interaction with her reader friends.
Karen is best known for her Life-Changing Fiction (TM) and for creating unforgettable characters. When speaking before women's groups – some with more than 10,000 in attendance – Karen makes audiences laugh and cry with her compelling story-telling. She likes to tell attendees they have, "One chance to write the story of their lives," and her talk focuses on reminding women to live every day loving well, laughing often, and finding true life in Jesus Christ. Karen routinely speaks before more than 100,000 women each year.
Karen's latest novel, Above the Line, Take Three, released March 23rd, 2010. Take Three is the third in the Above the Line Series. Look for the final installment in this series, Above The Line, Take Four to hit stores June 22nd, 2010. Shades of Blue, Karen's latest stand alone title, hit stores in October, 2009. Karen's newest series, Above The Line Series began with Take One, which released in March, 2009. The second book in this series, Take Two released in June 2009.
Karen's recent title, This Side of Heaven landed in the #5 spot on the CBD Bestselling Fiction List. Also, Karen's novel, Sunset landed #2 on the New York Times Best Seller's List. Karen has also written many best selling series including The Redemption Series and the Firstborn Series. Her fiction has made her one of the country's favorite storytellers. Several of Karen's novels are being considered for major motion picture movies. Her emotionally gripping titles include the 9-11 Series, Even Now, Ever After, and Between Sundays.
Karen is also a public speaker, reaching more than 100,000 women annually through various national events. Karen and her husband, Don, live in the Pacific Northwest with their six children, three of whom are adopted from Haiti.

Copyright secured by Digiprove © 2015 Margaret Margaret