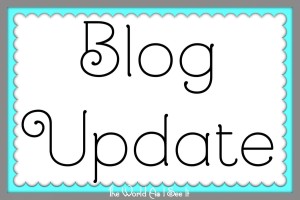 I don't know the last time I did an update post for this blog and since I have a few things I wanted to let everyone know and I have a few questions I would like answered I figured now was the time to write one.
First thing I wanted to let everyone know is that I put a donate button on my sidebar. I did this because I could really use money to help pay for hosting and other up keep items. So if you would like to donate feel free but you don't have to if you don't want to. I have always hated asking for money but I figured I would write about it once and then leave it at that.
Second thing is I wanted to let everyone know I am working on a new design for this blog because I am ready for a change. I am not sure how many people were around when I was still blogging on Blogger but I used to change my designs all the time because it was so much easier. Ever since I have moved to wordpress I have only had one other design so I am really due for another design. I will be working on it and rolling it out slowly so keep an eye out for that.
Instead of just listing questions I created this form using Google Documents because I figured it would be easier for me to track answers to the questions so if you have a few minutes I would love for you to answers the questions and let me know what you think.
Thank you all for taking the time to read my blog and comment. You will never know how much it means to me!

Copyright secured by Digiprove © 2014 Margaret Margaret