About The Books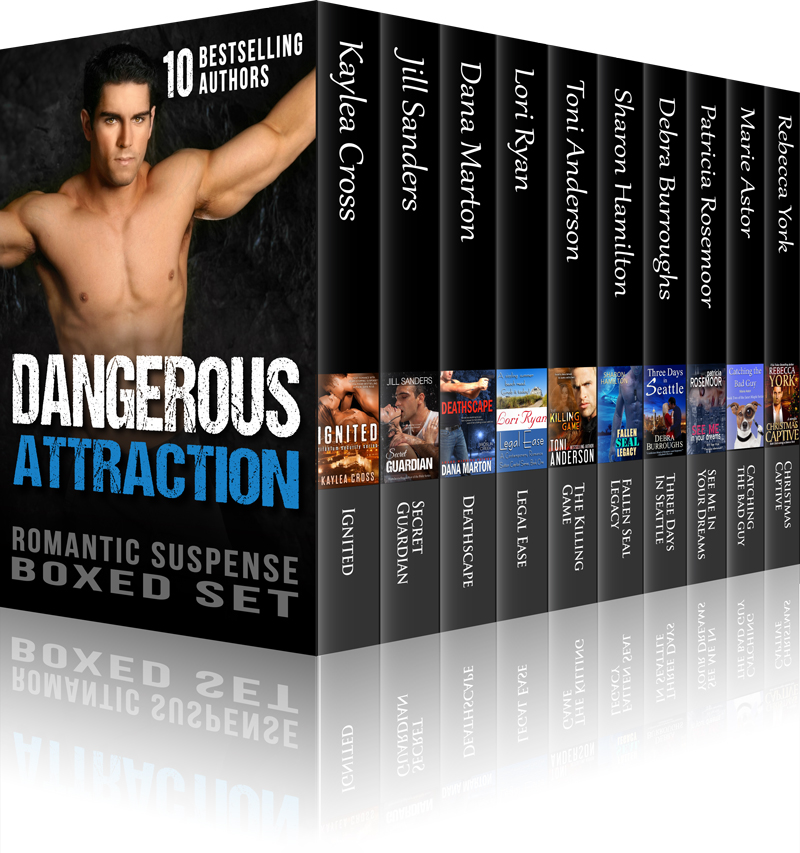 10 Award-winning, bestselling authors – 10 Hot Heroes – 10 Romantic Suspense Page Turners
99 CENTS THROUGH NOVEMBER 16th!
With nine full-size novels from bestselling romantic suspense authors and a brand new Christmas novella from New York Times bestselling author, Rebecca York, this boxed set can't be missed. Sexy, steamy heroes to heat you up and twisting plots to keep you turning page after page well past midnight!Grab it at the introductory price of 99 cents. That's 10 books for less than a buck!
From sweet to scorcher, these stories are a must read. Fall in love with our sexy cops, tough military heroes, and hot CEOs. Treat yourself to an amazing reading experience by top authors of romantic suspense collected in one boxed set at a price that can't be beat.
Ignited by award-winning and national bestselling author, Kaylea Cross – Can sexy ex-SEAL Hunter Phillips keep Khalia safe from the terrorists who took her father's life? (Scorcher)
Secret Guardian by international bestselling author, Jill Sanders – Will ex-special forces hero, Ethan, save Ann in time, only to lose himself to love? (Scorcher)
Deathscape by Daphne du Maurier Award of Excellence recipient and Rita Award finalist, Dana Marton – Detective Jack Sullivan will do anything to put Ashley in prison for her crimes…even if he's falling in love with her. (Sensual)
Legal Ease by award winning and national bestselling author Lori Ryan – Marrying Kelly solved the problems this steamy CEO faced at his company, but will he ever be able to forgive himself for the price she has to pay? (Scorcher)
The Killing Game by international bestselling author, Toni Anderson –Forced to choose between his country and his heart, British SAS Soldier, Ty Dempsey risks it all to save a wildlife biologist caught in the crosshairs of a ruthless killer. (Sensual)
Fallen SEAL Legacy by national bestselling author, Sharon Hamilton – Will Navy SEAL Cooper be able to survive the loss of the woman he loves, or will his self-sacrifice be enough to keep Libby safe? (Scorcher)
Three Days in Seattle by national bestselling author, Debra Burroughs – Trying to stay a step ahead of a lunatic set on revenge, Kate and Ryan are locked in a desperate race to find her missing sister and capture the madman before both women wind up dead. (Sweet)
See Me in Your Dreams by Patricia Rosemoor, Golden Heart Winner and two-time recipient of the Romantic Times Career Achievement Award – Her dreams allow her to see through his missing daughter's eyes, but he thinks she's a con woman…until she dreams of something known only to him and the girl. (Sensual)
Catching the Bad Guy by national bestselling author, Marie Astor – Top-notch white collar crime investigators Janet Maple and Dennis Walker team up to solve what could be the biggest case of their careers, but will their attraction to each other get in the way? (Sensual)
Bonus Christmas Novella, Christmas Captive by Romantic Times Career Achievement Award Winner and Rita Finalist, Rebecca York – Her special sight let her glimpse the Christmases past of this international financier, but did he have a Christmas future?
Buy A Copy
Amazon US
Amazon UK
Smashword
iTunes
Kobo
Win Something
a Rafflecopter giveaway
Excerpts
Excerpt from THE KILLING GAME by Toni Anderson:
When she woke she was staring straight into the startling cobalt eyes of Sergeant Tyrone Dempsey. He looked like he'd wait all day for her to wake up.
"I must be dreaming," she croaked.
He held out a mug of black tea.
"Definitely dreaming." She sat up, took it, and sipped. The warm liquid eased her dry throat. "Thanks. What time is it?"
"0600." His voice rolled over her. She blinked groggily. There was enough of a burr in his accent to make his voice very sexy and she figured he was laying on the charm this morning.
His face was scrubbed and clean-shaven. She found herself studying his features. The vivid eyes shaded by thick brows, the cheeks scraped smooth, the jaw firm and obstinate, his nose too flat to be conventionally handsome. Yet the combination stirred up her insides like hot coals. She fought the urge run her fingers through his short blond hair. He was tall and lean and he looked really, really good.
She did not like the whip of attraction that shot through her veins when those blue eyes twinkled. Damn. She needed distance, not attraction. "I was a bitch yesterday."
"Is that an apology?"
"More of a reminder." Reluctantly one side of her mouth curled. "But it's probably as close as you're going to get to an apology." She squinted at him. The lines around his eyes were cut deeper today. Had he slept? Or had he been up all night searching for the man he was chasing? The same man killing her leopards.
"My CO has been in contact with your bosses at the Trust. I've been ordered to use any means possible to apprehend this individual."
Fury engulfed her, but he moved into her space, sitting down on the edge of the bunk and trapping her in her sleeping bag. "So I'd like to propose a compromise." His expression remained even but lines around his eyes creased as she tried to spit out words. He reached out and removed the mug from her hand. "I'm going to put this over here in case you get any ideas."
The brush of his fingers against hers caused all sorts of fireworks to explode inside her that had nothing to do with anger. The man knocked her off-balance, made her crazy. More crazy, she conceded as she forced herself to get a grip. "What sort of compromise?"
"I've called for more men and equipment so we can start tracking our target properly. In the meantime, we'll split up and stake out the cats using the signals and"—he raised his voice as she tried to cut in—"we will help you release any animals you snare."
The sudden silence pulsed against the walls of the tent. "You'll let me uncollar them?"
"Yes."
They held each other's gaze for a long silent moment. "Why? Why not force me to leave them collared until you catch this guy?"
One side of his mouth dragged back in a wry smile before he answered. "You're not the only person in the world who gives a damn about endangered species, Dr. Dehn. However, capturing this man is my mission and the mission is my priority. Otherwise I wouldn't be a very good soldier"—his eyebrows rose—"now, would I?"
He stood and walked to the door of her yurt.
She was back to being Dr. Dehn, she registered. "And that's really important to you. Being a good soldier?"
He paused inside the tent with his hand on the felt. "Maybe it's all I've got."
Excerpt from THREE DAYS IN SEATTLE by Debra Burroughs:
A frenzy of news reporters and TV cameras were waiting for them as they pulled up to the police station. Parking in clear view of the cameras, Detective Patel pulled Suki out of the car. Both detectives escorted her at a snail's pace through the flurry of cameras and microphones and the volley of questions being thrown their way.
"Is this woman under arrest?" one reporter called out.
"Did she kidnap Whitney McAllister?" another shouted.
"Have you found Whitney's body?"
"Did this woman kill Whitney?"
The questions came in rapid fire, one building upon the other. As they approached the front door of the station, the detectives turned and lingered for a few moments, letting the press get plenty of video and photos of Suki.
Once inside, Porter and Patel ushered her into one of the interrogation rooms and left her there alone, telling her they needed to go and gather the case file.
"Just cool your jets here and I'll be right back," Porter said, as he shut the door.
Sitting in the bare room, she nervously scratched her head, crossed her arms momentarily, then uncrossed them, spreading them out on the table. What could they possibly have on me? And why did they need to bring me to down here to ask me questions? They always came to the apartment before. Why the police station now?
The fluorescent lights were glaring, putting a strain on Suki's eyes. The air in the room was warm and stuffy. She put her elbows on the table, propped her head on her hands, and closed her eyes to think.
Her thoughts went to Whitney, lying asleep on the filthy bed in total darkness. Without more sleeping pills, she'd eventually wake up. With her hands and feet tied to the bed and duct tape over her mouth, maybe she wouldn't be able to make much noise, Suki hoped. But, if she started jerking the brass bed around…Oh, why did I let Ethan talk me into this.
She leaned forward, stretched her hands straight out on the table, and laid her head down on them. The police know something. They have to, or I wouldn't be here.
Scenario after scenario flashed through Suki's mind and panic began to set in. For just an instant, she wanted to spill her guts and tell the cops everything—to save Whitney and save herself—but she soon pulled that thought back. She'd have to betray her brother, and there was no way she would do that. He wasn't much, but he was all she had left.
The door swung open and Detective Porter walked in. He dropped a manila folder down on the table with a thud and took a seat across the table from her.
"Miss Gorman, I need to know where you were the night Whitney McAllister went missing."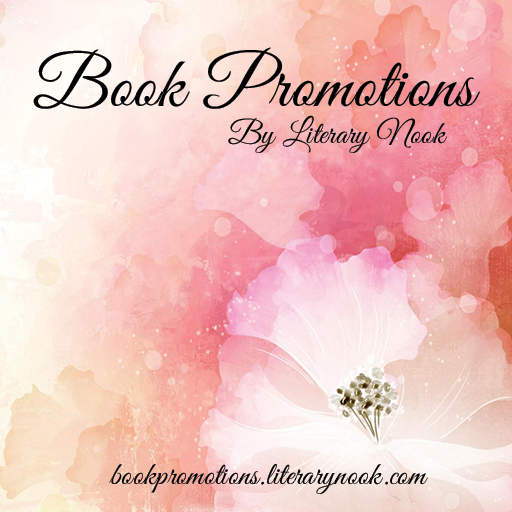 Copyright secured by Digiprove © 2013 Margaret Margaret