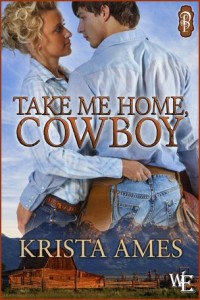 I really loved this story. It was a super quick read and it only took me a few hours to finish it. I loved the characters and where it took place. The author did a great job at making me believe I was there and going through what they were going through. I am glad that it all worked out in the end. I am for sure going to be checking more books for this author out.
About The Book
Ally Kincaid returns to Freewill, Wyoming, to see her father after a two year absence. Anticipating a quiet family reunion, she finds herself butting heads with her father's foreman instead. The man's arrogance and sexy drawl push all her buttons, making her wonder what he's hiding beneath his cowboy swagger.
Matt Gentry walked away from the past and shies from the future. No ties means no one gets hurt…until the boss's daughter, a hot, green-eyed blonde, tempts him to break his own rules.
When tragedy strikes, will building tension and pride destroy their growing attraction or show them the way home?
Warning: This title is intended for readers over the age of 18 as it contains adult sexual situations and/or adult language which may be considered offensive to some readers.

About The Author
Born and raised in Northern Indiana, Krista now resides in Northern Lower Michigan. She is married to a very supportive man, Chip, who allows her to follow her true passion of writing and never complains when she is pirated away on her computer for hours. He even helps with proof-reading and is her "in-house" editor and her idea sounding board. She is also a mother of 4 ornery children who keep her plenty busy. With an addition of 2 beautiful chocolate lab sisters and 2 playful cats, there is never a dull or spare moment in her household.
Krista has always loved to read and would often sit up for hours into the night not able to put down a book until she was finished. She still reads when she can but her main focus is creating her own stories to share with the world.
Connect with Krista Ames
Buy Links
Decadent Publishing
Amazon
Excerpt
Ally's attention immediately flew to the newcomer in the room. How could she not? He was gorgeous. Not that she actually wanted to notice.  Ha! Who was she kidding? His hair was still damp where it curled slightly at the neckline of his T-shirt. The short sleeve tee was snug fitting and showed off his pectorals and tanned arm muscles. He grabbed his plate, made his way around the table, and leaned in close. Oh, his scent hit her—clean soap and pure male. Good God.
"Like what you see, princess?" he murmured.
Startled out of her trance, she stumbled for a quick, snide comment. "You wish, cowboy," she whispered back, and then turned back to her daddy, who was already halfway finished with his meal.
She was not about to let anyone see how rattled the foreman's presence actually made her. She only hoped she hadn't already given her odd interest in him away. Ignore him and he won't be any the wiser.  She would be sure to make this trip a short one, or she would be in trouble.
Jesse cleaned his plate and abruptly stood, placed his dishes in the sink, and made to leave the room.
"Looks like you kids get to do the dishes. I'm off to my study." Her dad kissed the top of her head and slapped his foreman on the back, then chuckled as he disappeared through the door.
"That rat!" she said. "He shoveled through his dinner on purpose."
"No worries, princess. I do the dishes every night anyway. You can go do whatever it is you do before bed. I'll take care of the clean up before I head out to check the horses.
"Oh no you don't. I won't let you go running to Daddy tomorrow whining because I didn't do my share, so I'll wash. And why are you calling me 'princess'?"
"It seemed fitting. Would you rather me go back to ma'am?"
"No, I would rather you use my name, thank you."
He only shrugged.  He pushed his place setting aside, rose, and reached for the dessert and plates on the counter.  "Since we'll be working together, how about some dessert before we get busy?"

Copyright secured by Digiprove © 2013 Margaret Margaret