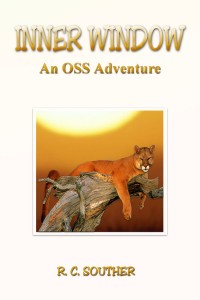 To the untrained eyes, Colena is a picture of a girl next door enjoying the best years of her life. Navigating the waters of Lake Chelan with her love interest, Bill, and close friends, Larry and Susan, she appears to be at the zenith of her life.
Yet the lake triggers memories of a life deeply locked in the inner recesses of Colena's mind. The memories, as they unravel, challenge her cherished relationship with Bill.
In Inner Window, by R. C. Souther, we see a young girl thrust in the intrigues and life-and-death games of global espionage, all in the service of her nation during World War II. Barely coming out of it alive, she must race to retrieve her memories in order to gain back control of her own destiny.
Will she be successful in the attempt and gain her freedom, or will she wilt and surrender under the stress and fear of what she might discover about herself?
My Review
This book was hard for me to get into.  For some reason the writing just didn't grab my attention.  It also took me awhile to get through it because I really couldn't focus on it.  Now my grandma on the other hand really enjoyed the book so it just wasn't the right fit for me.  I may try and read it again a little bit later and see if I can get into it.  I would recomend that people at least give this book a shot.  Over all it is a good story and it is interesting as she gets her memories back a little bit at a time.
I received a complimentary copy of The Inner Window, An OSS Adventure, as a member of the Dorrance Publishing Book Review Team. Visit dorrancebookstore.com to learn how you can become a member of the Book Review Team.

Copyright secured by Digiprove © 2012 Margaret Margaret