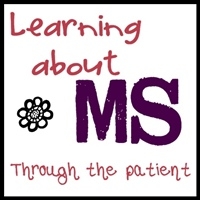 It has been a long time since I have written a post about Multiple Sclerosis and I really want to keep everyone in loop on what is going on with my health and all that fun stuff. Most of you know that I have an infusion once a month for my MS treatment. I take a medication that is called Tysabri. It is super expensive and can be dangerous but that is going to be another post. I was supposed to receive my infusion on the 23rd of September. That didn't end up happening because the company I work for changed health insurance companies and I had to wait for a preauthorization to come through before I could get my treatment. So I show up on the 23rd and they send me home because of the whole insurance issue. For those that know a little bit about my job and what has been happening the the last 4 months or so you know that I can only take one day off a month because they have no one to cover the phones since they let go Misti who used to be my boss. So I knew I was going to have to wait a few weeks before I could take time off to go in and get the treatment once they got the approval that they needed.
My next infusion is on the 21st of October, which means that I have missed a whole month. Let me just tell everyone I have no idea how I used to live like this because I feel like crap. I always knew Tysabri was helping but I had no idea that it was helping so much. For the last 6 months or so I have had headaches and I also haven't been in pain. Well since missing one month I hurt I have headaches and am exhausted. I literally slept almost all of Saturday because I was so exhausted from a normal week of work. I had to call my doctor and have her call in more pain pills because I was out and hadn't need them so I didn't bother getting a refill when I saw her last time. I feel so bad for people with MS that fill like this all the time. I am so glad that I have found an MS treatment that works for me and allows me to be a somewhat normal 26 year old. Also my hands are super numb right now and I am not sure if that is because I missed my treatment or just how the disease is acting right now.
I can't remember if I wrote about my last MRI and doctor's appointment so I am going to do a quick recap of all that information. I had my latest MRI in August and also saw the doctor after the results came in. According to the scan I am still stable and have been for about 2 years or so. They haven't scanned my neck in a few years so when I go for my next MRI in February they are going to scan my brain and neck areas which means that it will be a super long and super expensive scan. I am interested to see if there have been any changes in the neck area. If there hasn't been any changes that means I have been stable but if there are charges that means that I really haven't been stable all this time. I hate the not knowing that goes along with having MS.
That is all there is for now. If anyone has any questions please leave them in the comments and I will answer them for you.