A hobby of mine would have to be blogging and messing around on the computer! I find that blogging and reading blogs is really a stress relief to me and not to mention I have met great people blogging. I have had several blogs but this one and my private ones are the ones that I use the most. I am hoping one day that I will be able to make my private one public but for now it has to stay private because of people in my life that I don't need knowing what I am doing and when I am doing it!
I really have no idea where I would be if I didn't have blogging to help me relieve stress and talk my feelings out. Even if no one ever reads my stuff I will always keep doing it for me!
So there you go that is a hobby of mine!
~~~~~~~~~~~~~~~~~~~~~~~~~~~~~~~~~~~~~~~~~
Now for a new MeMe that Shell does on Wednesdays called Pour Your Heart Out!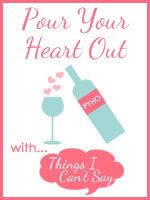 This really has become a growing problem in our country. Here is what they define cyberbullying as: "Cyberbullying is when someone repeatedly harasses, mistreats, or makes fun of another person online or while using cell phones or other electronic devices." Approximately 20% of the students in our sample admitted to cyberbullying others in their lifetimes. Posting mean or hurtful comments and spreading rumors online were the most commonly reported types of cyberbullying they reported during the previous 30 days. About 11% of the sample reported cyberbullying using one or more of the nine types reported, two or more times over the course of the previous 30 days.
Here are some stat's I found about children that are bullied online or through their cellphones.
42% of kids have been bullied while online. 1 in 4 have had it happen more than once.
35% of kids have been threatened online. Nearly 1 in 5 have had it happen more than once.
21% of kids have received mean or threatening e-mail or other messages.
58% of kids admit someone has said mean or hurtful things to them online. More than 4 out of 10 say it has happened more than once.
53% of kids admit having said something mean or hurtful to another person online. More than 1 in 3 have done it more than once.
58% have not told their parents or an adult about something mean or hurtful that happened to them online.
As I have been researching to write this post I have found that they really only focus on teenagers and what not when it comes to this but I am seeing more and more that it is done adult to adult as well. I can't find any statistics on it but I can bet that it happens just as much if not more. I recently had to watch a friend of mine go through this and I couldn't help but wonder why do people feel the need to be so mean to each other. I was taught growing up that if you didn't have anything nice to say you shouldn't say anything at all. I am so thankful that computers weren't really big when I was in school because if I had to deal with cyberbullying along with regular bullying I really don't know that I would have made it through high school!
I just can't understand why grown women need to be mean to each other. Hell if you don't like someone or what they write then don't read. No one is making you read what they write. I don't get why like in the movie "The Mean Girls" there always has to be a group of girls that goes around and likes to make people feel bad. Maybe I won't get it because I could never do things on purpose to make people feel bad about themselves!
That is all I really have to say about this subject. I guess when it boils down to anything people just shouldn't say anything if they don't have anything nice to say!