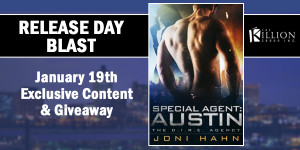 A D.I.R.E. agency candidate falls for an assassin ordered to bring down the agency… An alpha male meets his match in this spicy, suspenseful tale of assassinations, staying alive, falling in love, and all the trouble those things bring. Special Agent: Austin is a D.I.R.E. Agency Novella – short, not-so-sweet, and filled to the brim with action – in the bedroom and on the run. If you like your romance with a little bit of daring, you'll love this new book by Joni Hahn.
Join Joni Hahn and the Killion Group, Inc as we celebrate the release of Special Agent: Austin, a D.I.R.E. Agency Novella with a Release Day Blast. The one-day celebration will take place January 19th and will include exclusive content and a giveaway. ONE GRAND PRIZE WINNER will receive a Kindle Fire!
a Rafflecopter giveaway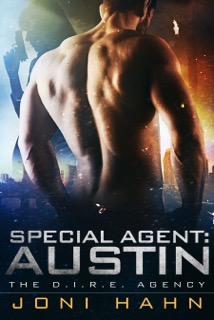 Title: Special Agent: Austin
Author: Joni Hahn
Series: D.I.R.E. Agency Novella
Genre: Romantic Suspense
Release Date: January 19th, 2016
Publisher: Indie Published
Print Length: 114 pages
Format: Paperback and Digital
Paperback ISBN: 9781522819257
Digital ISBN: 9781310781858
Synopsis:
Special Agent: Austin Rose
Objective:
Credentials:
Twelve years ago, Austin Rose silently stood by while his mother sent his brother away from home and their stepfather's abuse. Now that he's learned the truth behind his family's lies, Austin is a changed man, determined to make things right with the D.I.R.E. super agent – and himself – by making the elite security agency.
A hit gone bad changed assassin, Belle Mason's life forever. Assigned to San Diego for a D.I.R.E. agent's wedding, she's determined to bring down D.I.R.E. while its vulnerable, and give her sisters a new life. What she doesn't count on is interference from the distracting, forbidden Austin Rose, or his knack for dispelling her lifelong truths.
When Austin's chances of making the agency hinge on going undercover with Belle – literally – he'll do whatever it takes to make the team.
But, when Belle decides to put her own life on the line, only one truth remains, and Austin won't silently stand by…
Excerpt
Looking out over the crowd, a flash of sky blue caught his eye. He did a double take.
It was her.
Wearing a long, flimsy dress that hugged her ample breasts and flowed to the floor in a pool of fluff, she stole the spotlight. The green tips had vanished from the the blonde ringlets now piled high on her head, her nails painted a soft pink. Her face looked pale and ethereal, her skin glowing in the dim, chandelier lights. The diamond stud at her nose twinkled, but not nearly as much as her round eyes which seemed to fade into the dress. She looked nothing like the tough, leather-bound smart-ass at the airport, but an exquisite, delicate woman.
A chameleon.
Who was she? Security was tight, with invitation-only admittance. Now was his chance to find out why she skipped out on him and possibly get more information for Jaydan and Grayson Donner.
He squeezed Hope's elbow. "Excuse me a minute. I see someone I know."
Making his way through the ocean of body heat and free-flowing drinks, he found her standing at a bar height table with two couples, a plate of food in front of her. The others ignored her while she dug into her extravagant fare.
"Sweetpea, fancy meeting you here." He nodded at the others, a false smile pasted on his face.
A model of composure, she straightened her napkin on the table before turning to look at him. "Well, Honey Dump-"
She gave him a slow perusal, her eyes shining brighter the longer she looked. Heat climbed in his face and filtered through his body. That's the second time he'd gotten hot and bothered around her. She was so…obvious about her attraction to him. It made him uncomfortable.
But, horny as hell.
Her voice barely carried over the buzz of conversation. "You take my breath away, Dumpling."
Stick to business, Rose. Don't let her distract you.
"What are you doing here?"
Picking up a cracker, she said, "Free food." She scooped some caviar onto the cracker and took a bite.
God, the woman was a complete smart-ass. So, why in hell was he standing beside her, aroused, knowing she skipped out on him and could have information on a missing woman?
Dumb-ass, Rose.
Available NOW: Amazon | iBooks 

About Joni Hahn
By day, Joni Hahn keeps her secret decoder ring hidden while she works as a mild-mannered contemporary romance author. She believes the world can never have too many superheroes, and anxiously waits for the call when one will need help saving the world… or getting into his costume. Joni was born with a hopelessly tender heart and believes there is nothing on earth more exhilarating than falling in love. A native Texan, she thinks cowboys are the epitome of masculinity, and that country music is the other soul music.
Joni is a member of The Authors Guild, the Romance Writers of America and its Published Authors Network. She is a member of several RWA sub-chapters and has served in numerous board positions with the San Antonio Romance Authors. When she isn't writing, she enjoys reading, going to movies and concerts, and spending time with family and friends.
Connect with Joni: Website | Facebook | Twitter | Goodreads | Amazon


Copyright secured by Digiprove © 2016 Margaret Margaret