In Patty Blount's THE WAY IT HURTS, two teens' quest for fame goes terribly wrong when a single tweet goes viral and the online backlash follows them into real life. Fans of Gayle Forman's If I Stay will like how main characters Elijah and Kristen bond over their music in this edgy, real world contemporary young adult read that examines the impact social media has on the lives of today's youth.
About The Book
Title: The Way It Hurts
Author: Patty Blount
Publisher: Sourcebooks Fire
Release Date: August 1, 2017
Genre: Young Adult Contemporary
Pages: 352 pages
Format: Paperback and Digital
Print ISBN: 978-1-492632-788
Digital ASIN: B06XR172ZD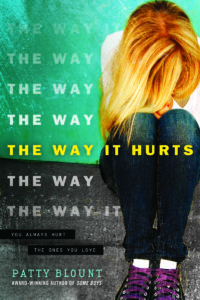 There may be two sides to every story, but sometimes there's only one way to set things right…
Music is Elijah's life. His band plays loud and hard, and he'll do anything to get them a big break. He needs that success to help take care of his sister, who has special needs. So he'd rather be practicing when his friends drag him to a musical in the next town…until the lead starts to sing.
Kristen dreams of a career on stage like her grandmother's. She knows she needs an edge to get into a competitive theater program–and being the star in her high school musical isn't going to cut it. The applause and the attention only encourage her to work harder.
Elijah can't take his eyes off of Kristen's performance, and snaps a photo of her in costume that he posts online with a comment that everybody misunderstands. It goes viral. Suddenly, Elijah and Kristen are in a new spotlight as the online backlash spins out of control. And the consequences are bigger than they both could have ever imagined because these threats don't stay online…they follow them into real life.

About The Author
Native New Yorker Patty Blount is the award-winning author of several critically acclaimed internet issues novels for teens as well as a few adult contemporary romances. She is inspired to write by such greats as Judy Blume, JK Rowling, and Gayle Forman. In fact, Judy Blume is the reason Patty elected to write under her real name…so she'd appear on shelves next to her idol. Patty adores writing; she's written everything from technical manuals to song lyrics (see THE WAY IT HURTS, coming August 2017). Patty wants you to know she loves chocolate…really, really loves chocolate.
When not crushing on actors Gilles Marini or Sam Heughan, Patty can be found sitting in traffic somewhere on the Long Island Expressway, listening to audio books or talking wildly to herself about plots and characters. Prone to falling madly in love with fictional characters, Patty suffers frequent broken hearts when they all invariably prefer the heroine to her… go figure. When she's not writing, Patty loves to watch bad sci-fi movies and live tweet the hilarity, and scour Pinterest for ideas on awesome bookcases. Patty lives on Long Island with her family in a house that, sadly, lacks bookcases.
Connect with Patty:  Website  |  Facebook  |  Twitter  |  Goodreads  |  Amazon  |  BookBub
Add to your "Want to Read" shelf:  Goodreads
Enter To Win
a Rafflecopter giveaway
Excerpt

Copyright secured by Digiprove © 2017 Margaret Margaret