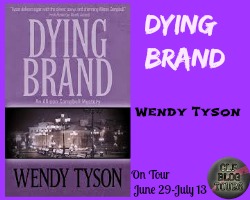 Dying Brand by Wendy Tyson was a book I wasn't sure I was going to like but I ended up reading it in one afternoon and loving everything about it.  I have read one other book by this author but to be honest I don't really remember that book.  This is the third book in the series but you don't have to read the other books to understand this one but some of the smaller plot lines might be easier understood if you had read the other two books before this one but you don't have to read them first.  Anyway let's get on to the review of this book.  As I said before I loved this book but there were spots that could have been cut out because they just slowed the story down but all in all I loved the story.  I was a huge fan of the characters and the author writing.  She made me feel as if I was there with the characters and I could understand the choices they made even if I didn't agree with them.  Allison at times did get on my nerves but that usually happens when the main character is female.  This book made me want to go back and read the other two books in this series.  If you love mystery books than I would for sure recommend this book to you.

About The Book
When image consultant Allison Campbell attends an award ceremony to honor a designer friend, she's thrust into a murder investigation. Only this time, it's personal.
A former boyfriend is dead, slain on the streets of Philadelphia. His widow claims he was meeting with Allison, yet Allison hadn't spoken to him in years. Nothing about his death—or life—makes sense. When compromising photos from their past arrive at Allison's office, they raise more questions than they answer.
Driven to find justice, Allison deconstructs the image her ex had created for himself, looking for clues about the man he'd become. As her hunt for the truth unveils secrets, Allison's past and present collide—with deadly results.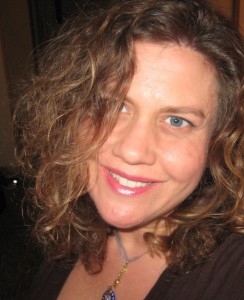 About The Author
Wendy Tyson is an author, lawyer and former therapist whose background has inspired her mysteries and thrillers. Wendy has written four published crime novels, including Dying Brand,the third novel in the Allison Campbell Mystery Series, to be released on May 5, 2015.  The first in the Campbell series,Killer Image, was named a best mystery for book clubs in 2014 by Examiner.com. Wendy is also the author of the Greenhouse Mystery Series, the first of which, A Muddied Murder, is due to be released just in time for spring 2016.  Wendy is a member of Sisters in Crime and International Thriller Writers and she is a contributing editor for The Big Thrill, International Thriller Writers' online magazine.  Wendy lives near Philadelphia with her husband, three sons and two dogs. Visit Wendy at:www.watyson.com.
Buy Your Own Copy
Google Play
Enter To Win
a Rafflecopter giveaway
Excerpt

Copyright secured by Digiprove © 2015 Margaret Margaret