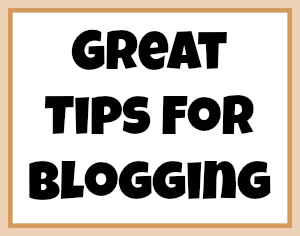 Last week for the Writers Workshop one of the prompts was to list 5 of my favorite blogging tips.  I always love to read other people's tips and tricks when it comes to blogging so I figured I would list a few of my own.  These are things that I also wish I would have known from the start.
 First before I started a blog I wish I would have picked a name and also known what I wanted to blog about.  I say this because it is so much easier to have all of this done before hand instead of trying to figure it all out once you have been blogging for a few years like I did.

Don't get caught up in the numbers.  I spent a lot of time worried about the number of followers of my blog or the number of likes that my Facebook Page had.  For me this just turned blogging into some sort of popularity contest and made me want to stop blogging.  Once I stopped caring and started blogging for me I found the reason I started blogging in the first place.  Now I still love when I get comments or emails from people who read my blog but I don't focus on those things because if I do I get discouraged and blogging becomes a chore instead of something I just love to do.
For me I always have to remind myself just to have fun and be true to who I am.  I have been blogging for years and only in the past year have I started to really just blog about things I want to.  I have lost readers because of the book reviews but it is something I truly love doing so I am going to continue them.
Know that people who know you in real life can and will find out about your blog so don't blog about things you don't want other people who know you to read.
It can take years to build a blog so don't give up if you aren't where others are.  It takes some people years to build their blogs and then others make it big fast.
Those are a few of the things I wish I would have known before I started blogging.
What do you wish you would have known before you started?

Copyright secured by Digiprove © 2013 Margaret Margaret