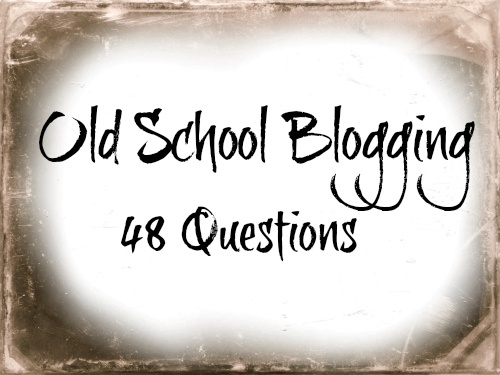 Awhile ago I was reading blogs and I came to this blog and she was answered these 48 questions like we always used to do back when I started blogging years ago.  I remember  blogging when I started was easier because there were ton's of MeMe's out there and what not.  I decided that this would be a fun change of pace.
1. WERE YOU NAMED AFTER ANYONE?
Yes my first name is for my Mom's Mom and my middle name I believe is from my dad's mom.
2. WHEN WAS THE LAST TIME YOU CRIED?
Yesterday while I was reading a book.  I am such a baby lol
3. DO YOU LIKE YOUR HANDWRITING?
Nope-I have never liked it.  I have always thought it looked messy and like guys writing.
4. WHAT IS YOUR FAVORITE LUNCH MEAT?
Turkey or Chicken but I rarely eat either since I try and not have any gluten in my diet.
5. DO YOU HAVE KIDS?
I have one I placed for adoption and then I 2 fur babies.
6. IF YOU WERE ANOTHER PERSON, WOULD YOU BE FRIENDS WITH YOU?
Probably not because I don't have very many friends which is by my choice.
7. DO YOU USE SARCASM A LOT?
TONS!!!!!!!
8. DO YOU STILL HAVE YOUR TONSILS?
Nope I had them out the summer before I entered the 2nd grade I believe.  Here is a fun little fact I had them in a little jar up until a few years ago when I decided I didn't need them anymore lol
9. WOULD YOU BUNGEE JUMP?
No why in hell!  I am way to scared of heights.
10. WHAT IS YOUR FAVORITE CEREAL?
Frosted Mini-Wheats
11. DO YOU UNTIE YOUR SHOES WHEN YOU TAKE THEM OFF?
Nope because I hate having to tie them when I put them on.
12. DO YOU THINK YOU ARE STRONG?
Depends on what strong you are talking about.  Physically I am not strong but I am pretty strong mentally.
13. WHAT IS YOUR FAVORITE ICE CREAM?
Mint chocolate chip
14. WHAT IS THE FIRST THING YOU NOTICE ABOUT PEOPLE?
Usually their hair and nose.
15. RED OR PINK?
Neither lol I prefer purple
16. WHAT IS THE LEAST FAVORITE THING ABOUT YOURSELF?
My weight
17. WHO DO YOU MISS THE MOST?
My great grandma.  She has been gone ten years.
18. WHAT IS THE TECHNIQUE THAT YOU NEED TO WORK ON THE MOST?
Controlling my stress
19. WHAT COLOR SHOES ARE YOU WEARING?
Black
20. WHAT WAS THE LAST THING YOU ATE?
Pizza last night for dinner
21. WHAT ARE YOU LISTENING TO RIGHT NOW?
Nothing but I was listening to Celtic Thunder a few mins ago
22. IF YOU WERE A CRAYON, WHAT COLOR WOULD YOU BE?
Purple
23. FAVORITE SMELLS?
Clean linen smells
24. HOW IMPORTANT ARE YOUR POLITICAL VIEWS TO YOU?
They are important to me but I refuse to ague with people over them and what not.
25. MOUNTAIN HIDEAWAY OR BEACH HOUSE?
Beach house
26. FAVORITE SPORTS TO WATCH?
Football
27. HAIR COLOR?
Brown
28. EYE COLOR?
Blue or Grey
29. DO YOU WEAR CONTACTS?
Nope
30. FAVORITE FOOD?
Anything with bread and since I can't have gluten I don't eat much of my favorite things anymore.
31. SCARY MOVIES OR HAPPY ENDINGS?
Happy endings for sure
32. LAST MOVIE YOU WATCHED?
Hunger Games
33. WHAT COLOR SHIRT ARE YOU WEARING?
A pink maroon and orange striped shirt
34. SUMMER OR WINTER?
Neither
35. FAVORITE DESSERT?
Ice cream
36. STRENGTH TRAINING OR CARDIO?
I need  both
37. COMPUTER OR TELEVISION?
Computer for sure
38. WHAT BOOK ARE YOU READING NOW?
a few of them but the one I need to finish first is called Hidden In The Heart.  The review will up on the 18th.
39. WHAT IS ON YOUR MOUSE PAD?
The letter "G" for Gateway
40. FAVORITE SOUND?
Music
41. FAVORITE GENRE OF MUSIC?
Anything
42. WHAT IS THE FARTHEST YOU HAVE BEEN FROM HOME?
New York
43. DO YOU HAVE A SPECIAL TALENT?
Nope
44. WHERE WERE YOU BORN?
Salt Lake City Utah
45. WHERE ARE YOU LIVING NOW?
Riverton Utah
46. WHAT COLOR IS YOUR HOUSE?
Red/Brown Brick
47. WHAT COLOR IS YOUR CAR?
Bright blue  I believe it is called something like blue ribbon metallic
48. DO YOU LIKE ANSWERING 48 QUESTIONS?
Sure it was an easy post to write and it brought me back to when I started blogging.

Copyright secured by Digiprove © 2013 Margaret Margaret