About The Book
Title: Biker B*tch
Series: Heaven's Sinners #1
Author: Andie J. Christopher
Genre: Contemporary MC Romance
Release Date: July 11, 207
Word Count: 75,000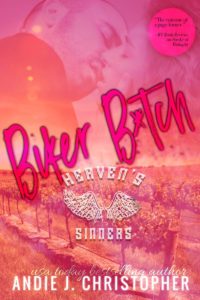 Skyler Clark knows she'll have to face her past when returns to the Russian River Valley to make pinot noir. People in the small town where she grew up haven't forgotten her father – a country doctor turned outlaw motorcycle club president – and his fall from grace. But as long as she keeps her own business squeaky clean and stays away from bikers, she'll be fine.
Abner Travis sold his family's vineyard and winery to build up his business. And he's the president of a clean motorcycle club that does things the overburdened sheriff's department can't. He's too busy making sculptures for Hollywood directors and quietly sabotaging meth labs to chase a woman. But now that Skyler's all grown up, he wants her for his own. He just has to convince her that their dark, shared history shouldn't get in the way.
Travis is the one thing Skyler can't resist, but she doesn't believe they can last. When her father's old club puts Skyler's business and safety at risk, she has to decide whether to place her trust in Travis or to walk away. And Travis has to decide how much he'll give up to keep the woman he loves.
Warning: Contains a dead sexy biker who will pull on your pigtails, but only if you beg
About The Author
USA Today Bestselling author Andie J. Christopher writes edgy, funny, sexy contemporary romance. She grew up in a family of voracious readers, and picked up her first Harlequin Romance novel at age twelve when she'd finished reading everything else in her grandmother's house. It was love at first read. It wasn't too long before she started writing her own stories — her first heroine drank Campari and wore a lot of Esprit.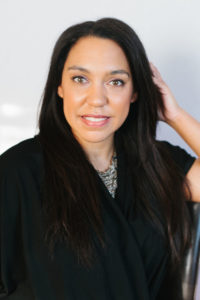 Although, she set aside writing fiction for a while, her love of romance novels stayed with her through college, law school, and multiple cross-country moves. During one long East Coast winter, she decided writing a book would be a good excuse to avoid braving the elements. It was love at first write. Her heroes are dirty-talking alphas, and her heroines traded Esprit for Free People. (None of them would turn down a Campari, though.)
You can visit her online at the following places: Website | Facebook | Twitter | Goodreads | Amazon | BookBub | Instagram | Pinterest
Buy A Copy
Amazon | Barnes & Noble | Kobo | iBooks
Enter To Win
a Rafflecopter giveaway
Excerpt
"Yo. You look beat to shit," Chevy said.
"Gee, thanks." Chevy wiped his hands on a rag sticking out of the pocket of his coveralls. Travis picked up a tool and stuck his head under the hood.
"Care to share? Ginger keeping you up?"
"Nah, man. I'm not seeing her anymore."
"Good thing. She's a skank."
"She's not a skank. She's a nice girl. Just not for me."
"Care if I take a shot at her?"
Travis gave Chevy a pointed look. "I thought you said she was a skank?"
Chevy smiled. "Yeah, but I like skanks." Chevy turned back to the bike and worked his wrench. "I'll be flush once tourist season starts. All I gotta do is post up at the wine bar and some tipsy divorcee will take one look at me and drag me back to her room at a B&B. Like shootin' fish in a barrel."

Copyright secured by Digiprove © 2017 Margaret Margaret