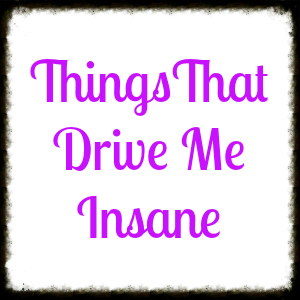 I am back with another edition of Things That Drive Me Insane and as promised this one is about idiot drivers.  I swear the drivers get worse every day.  So in this post I am going to talk about motorcycles.  My brother has a motorcycle so I have listened to him talk about how people have almost killed him and I have almost killed a few of them myself when they have decided to cut me off and/or just drive like total idiots.
I know that at times it is hard to see people who are riding motorcycles but I do my best to watch for them because if I was riding a bike I would want someone to do that for me.  I am so tired of people on motorcycles thinking that they can drive between the lanes or even go on the shoulder to get around traffic.  One guy went down the shoulder instead of waiting like the rest of us to merge onto the freeway.    I have to say though that the thing I "love" the most that some of them do is to cut me off and then the next second they are cutting someone else off because they feel the need to go 100 MPH down the road.
Now onto the idiots in the cars who don't pay attention and watch for people who are on motorcycles or who are even in other cars.  I am so tired of other drivers talking on their phones or reading books.  Although I think the thing that pisses me off the most is when I almost get killed by a cop because he is messing around on his laptop and or talking on his damn phone.
Wow this post got really off track.  Anyways lets get back to idiot drivers who don't pay attention to others.  I wish everyone would just pay attention to driving and not everything but driving!  Anyway that is all for this post.
What do drivers do that piss you off?

Copyright secured by Digiprove © 2013 Margaret Margaret