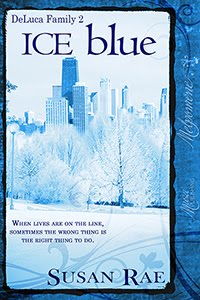 I didn't read the first book in the series so I found that I was a little lost with some parts of the book but I still loved this book.  I am going to go back and read the first book and then I am sure this book will make more sense to me.  I really did enjoy this book though.  I liked the characters and I felt like they really could be alive and they also seemed like people I would get along with.  I love the authors writing and I can't wait to check out more books by her in the future.  This is also a book that once I started reading it I couldn't put it down.  From the start I had to know how it was going to end.  It needs to be at the top of your list if you love suspense books.
About The Book
Romantic Suspense~Date Published: 3/15/13
When lives are on the line, sometimes the wrong thing is the right thing to do.
Born into a Chicago cop family, Angela DeLuca gets her rush from saving lives while her brothers get theirs from catching the bad guys. A tough beauty with a heart perhaps too big, she champions the underdog because, as the youngest of six siblings, she often felt like one.
ICE Special Agent Troy Deavers became a cop to prove he wasn't like his father—a southern politician who brought his family down with greed and corruption. He doesn't suffer victims well. At first intrigued by Angela's passion, he soon fears that the fire in Angela's heart will be her undoing.
What happens when Troy falls in love with the lovely but infuriating Angela, the Chicago paramedic who insists on protecting a young witness and her unborn baby—a witness who could break his case wide open?
You met the DeLuca family in heartbeats, now come to know them even better in ICE blue.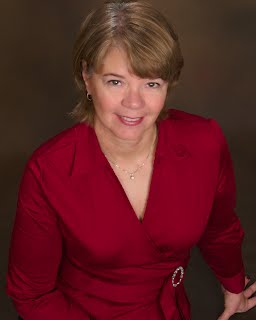 About The Author
I write, basically, because I just can't help myself.  I can't resist the challenge of taking the intriguing characters and storylines that pop into my head and fleshing them out into compelling manuscripts.  Romantic suspense is a natural to me, because it allows me to combine a sexy, passionate love story with a gritty suspense tale—in my opinion, the best of both worlds. It also lets me express my appreciation for the outdoors in the settings which I recreate on the page.
Freefall, my second novel, takes place in Wisconsin's Kettle Moraine Forest and beautiful Door County. ICE blue returns to the busy streets of Chicago and the shores of Lake Michigan to continue the story of the DeLuca family which began in my award winning first novel, heartbeats. I am currently working on the third book in the DeLuca series, TRUE blue, due out in 2014, where it seems my characters must take a trip to Montana's majestic Glacier National Park.
When I'm not sketching characters or working out plot problems, you might find me on the golf course working on my handicap. I also enjoy traveling around the country seeking out new settings for my novels with my husband and my empty nest puppies, Ginger and Nikute.  To read more about my novels and the writing life, please visit my website/blog at www.susanrae.com.
Buy The Book
Musa
FTC: I received a free copy of this book in exchange for my review.  The opinions expressed in this review are 100% mine.
Excerpt
A rush of adrenalin shot through Angela as she approached the accordioned car where a cop stood, adamantly motioning her over.
"What've we got?" she asked the officer. Another man, not a cop or rescue personnel, she presumed, as he wore no uniform jacket—hell, he wasn't wearing a jacket at all—stood beside the officer, his back to her. His head and arms disappeared into the opening where the driver's window should be. Blood, bright red and vibrant against the white snow, trickled from beneath the door at the man's feet…
She touched the shoulder of the man leaning through the window.
"Hey, it's okay, we'll take it from here."
The guy didn't seem to hear her. More rescue vehicles were arriving on scene, sirens blaring.
She called more loudly. "Hey, I said we've got it!"
Finally he turned and gave her a quick assessment. She could swear she saw a touch of amusement in those blue-green eyes he flashed at her.
"Listen, lady, if I ease up on this," he said smoothly, "this guy'll bleed out." Turning his back to her, he said to the driver, "Hang in there, buddy. I've got you covered…
Angela squeezed her arm in beside the man-in-the-window's shoulder and pressed her fingers against the driver's throat. He was tachy. His skin cold and clammy.
Withdrawing her hand, she bent, unzipped her jump bag, and grabbed a handful of trauma dressings. "Listen, thanks for your help," she said firmly to the man beside her, "but, we've got it now." She ripped a couple of gauze packs open with her teeth and added, "You'd better get into a warm car yourself or we'll be treating you next." The guy's wavy, mid-length hair and cotton-shirted shoulders were quickly becoming coated with snow. It was clear he wasn't from around here given his lack of outerwear.
He cocked his head toward her again and this time there was no mistaking that amused look. Angela shot him her most official glare. Her hands, loaded with supplies, were poised, ready to do battle just as soon as he got the hell out of her way.
His eyes narrowed ever so slightly on her. He glanced back into the car to where Josie was squeezing in through the passenger window and settled his gaze once more on Angela. "If you're sure you're ready?"
Shit! Was this guy for real? "Out of my way!" she ordered.
"Fine, he's all yours."
Before she was barely aware of it, he had backed out of the window and was holding his bloodied hands up into the air.
With an irritated shake of her head, she shoved past him, head and hands diving through the open window. With the pressure released, blood soaked more quickly through the jacket. She eased the jacket aside to expose the gash and slammed the gauze dressing against the pulsing artery. In the slight gap that remained of the front passenger compartment, Josie ripped I.V. packages open and readied a needle to pump the guy with fluids.
The driver started to shake, shock taking hold.
"Hold on there, buddy," she called to him, but he drifted into unconscious; his eyes rolled back in his head. The sweet smell of warm blood against the crisp frigid air burned Angela's nostrils. She felt a chill snake up her own spine. She and Josie were locked in a battle against time and the cold—they had to keep this guy alive until Rescue could get him out of here.
Glancing out the window, she noted that Mr. Helpful was gone.  Thank God!
"Where the hell are those Jaws?" she yelled at the officer.
It'd been a long night. She'd already lost one patient on her watch; she'd be damned if she'd lose another.
Copyright © 2013 by Susan Rae

Copyright secured by Digiprove © 2013 Margaret Margaret