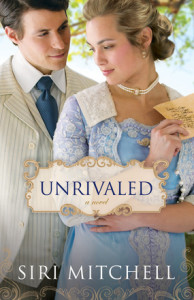 This was a "sweet" story. I really liked the 2 main characters and I found it funny at times of upset Lucy would get over things. I had to stop and remember the time frame for when this took place. The author did a great job at making me hungry through the whole book at want to eat candy. She also did a great job of making me feel like I was there with Lucy and going through what she went through. I liked Charlie from the start and at the end of the book I liked him even more.
Lucy Kendall returns from a tour of the Continent, her luggage filled with the latest fashions and a mind fired by inspiration. After tasting Europe's best confections, she's sure she'll come up with a recipe that will save her father's struggling candy business and reverse their fortunes. But she soon discovers that their biggest competitor, the cheat who swindled her father out of his prize recipe, has now hired a promotions manager-a cocky, handsome out-of-towner who gets under Lucy's skin.
Charlie Clarke's new role at Standard Manufacturing is the chance of a lifetime. He can put some rough times behind him and reconnect with the father he's never known. The one thing he never counted on, however, was tenacious Lucy Kendall. She's making his work life miserable…and making herself impossible for him to forget.
About The Author
Siri Mitchell is the author of nearly a dozen novels, among them the critically acclaimed Christy Award finalists "Chateau of Echoes" and "The Cubicle Next Door". A graduate of the University of Washington with a degree in business, she has worked in many different levels of government. As military spouse, she has lived in places as varied as Tokyo and Paris. Siri currently lives in the DC-metro area.

Copyright secured by Digiprove © 2013 Margaret Margaret