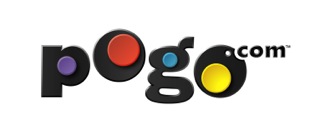 I am not sure if you guys have heard about Pogo before but let me tell you that I love the site.  I actually have used the site since I was in a freshman in college.  I found it one night when I didn't want to study so I was looking for something to entertain me because who really wants to study and do homework when you can find a great game to play.
The first game I found on Pogo.com was Poppit and let me tell you to this day I will always play this game.  It is a fast paced game and is so much fun to play when you need to take a break from working or if you are just looking for something to entertain you.  I can't even tell you the hours I have spent playing this game.  Once I start playing it I forget that anything else is going on in the world.  Since I am writing a post about it all I want to do is stop and play the game instead of work.
I am sure most of you know by now that I always seem to be on the computer working but I also take time to just relax and take time for me and with that time I am always playing games.  Online games are great because they are easy to use and I can also play they from my phone if I happen to be at an appointment or something like that.
I have included the game below so you can play it.  I knew I better put it at the bottom of the post because if I say it at the top of  the post I wouldn't get to reading the post because I would be to busy playing the game.  You really need to check out Pogo.com and play Poppit!
"I was compensated for this post.  All opinions expressed are my own."

Race against the clock and pop as many balloons as you can. To play the Poppit!™ Sprint puzzle game, all you have to do is pop groups of two or more balloons of the same color in one minute. Fast pops of three or more balloons of the same color increase your multiplier and score.
Play the full version of this puzzle game for free* on Pogo.com. Once you register, you will also be able to save your high scores, tokens, and be able to enter daily for a chance to win prizes**. Join Pogo now and play over 100 free* online games!
*Internet connection and EA account required. Must be 13+ to create an EA account.
**NO PURCHASE NECESSARY. Eligibility restrictions apply. See Official Rules for details and alternative means of entry.

Copyright secured by Digiprove © 2012 Margaret Margaret