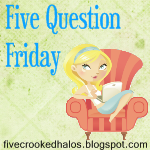 Questions for Friday, March 26
th
1. Did you pass your driver's test on the first try?
2. What is your most embarrassing moment?
3. What TV show would you like to be on- Oprah, Biggest Loser, or What Not to Wear?
Oprah!!!!!!! She is so classy
4. Would you ever get plastic surgery and what kind?
I want to get my breast fixed one day.
5. What are your favorite jeans to wear?
They are a pair I got from Kohls. I would wear them all the time if I could.