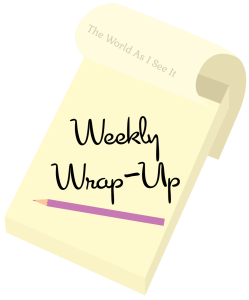 It has been an entire month since I have done a wrap-up post so I am just going to get right into it.
Richard Bach-Quote Of The Week
Another Way Home by Deborah Raney
The Five Times I Met Myself by James L. Rubart
An Endless Christmas by Cynthia Ruchti
Butterfly Dreams by A. Meredith Walters
Waking Up To Love by Katie O'Boyle
The Courtship of Utopia Miner by Linda Gilman
Crimson Path Of Honor by M.B. Tosi
The Migrant Report by Mohanalakshmi Rajakumar
A Thousand Shall Fall by Andrea Boeshaar
Joseph B. Wirthlin-Quote Of The Week
The Golden Braid by Melanie Dickerson
The Thread That Binds by Alice Hayes
A Moment of Weakness by Karen Kingsbury
Robert H. Schuller-Quote Of The Week
They Never Die Quietly by Daniel M. Annechino
The Wedding Chapel by Rachel Hauck
Writer's Workshop- 7 Things That Bring Me Comfort
Those are all the posts from the past month in case you missed anyone of them.  I hope you have a good week and I hope to see you here next week.

Copyright secured by Digiprove © 2015 Margaret Margaret