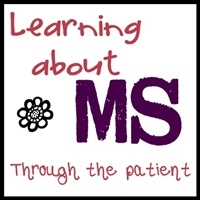 I haven't done a MS update in awhile so I figure now is  a good time to catch everyone up on how I have been doing.  I have an infusion this Friday and than a MRI on the 21st after work.  In September of 2011 the company I work for switch insurance companies which means that I had to miss a infusion and I am still trying get to back to feeling great again.  I am glad that the Tysabri does make me feel good once it gets built up in my system.  I have been on Tysabri for about 3 years or so and for me that is huge.  When I was younger I refused to stay on a treatment because all the medications that they had for MS then made me so sick.
Anyway  I have been super tired and worn out.  I know part of that is because I missed a month and another part of that is because of the stress of my day job.  It has been 7 months since they let Misti go so it is busy for me and for some reason January has been crazy busy here and when it is like this by the time I get home from work all I want to do is sleep so I haven't been able to keep up with designing let alone blogging.  I am going to try and get all caught up on Friday while I am getting my infusion.
My hands are still numb all the time but I am starting to have times where I can't hold on to anything because  I can't grip whatever I am trying to hold. My feet are also going numb on and off which makes walking hard and it is just annoying.  Also at my last Doctors appointment she noticed that my balance has gotten bad and since then I have been paying attention to it and it is still bad but like all MS things it is hit or miss as to when it will happen.
That is all for now but I will update again after my doctors appointment at the end of this month.  I hope everyone is having a great Tuesday!!

Copyright secured by Digiprove © 2012 Margaret Margaret