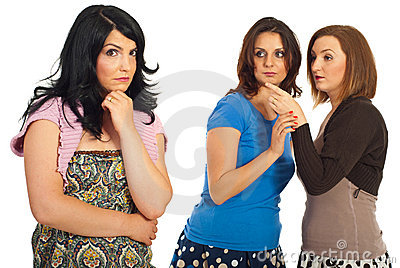 I have been looking for places to get topics to blog about and I recently found this site that has tons of different topics to write about.  I chose: Talk about cattiness in women.  I chose this one because I work in a building full of men and I wouldn't have it any other way.  Now don't get me wrong the men I work with drive me crazy to say the least but the don't have all the drama that women have.  The guys still have their days but for the most part they are 100 times better than women are to work with.
When I saw this topic the first thing that popped into my head was beauty salons.  Some of you may know that I get my nails done so that means I spend a lot of time in a salon.  Let me just saw that the lady I go to now doesn't have hardly any drama but all the other people I have seen always have drama.  There is always someone talking about someone else.  I can't figure out why women talk about each other.  I can't stand listening to all the gossip that goes on at salons or with women in general.
Growing up I didn't have hardly any girlfriends because I would get so tired of the drama and women will turn on people in a heart beat.  I also didn't attend church once I got into high school because of all the drama that got carried over from school. I have never been the person to talk about others and I also have never understood why women are always talking about each other.  If I had to guess at a reason I would guess it was women are always so jealous of each other.  We are always seem to be judging each other.  I think women need to build each other up and not knock each other down.   I know if women stopped talking about each other that more women would be okay with themselves and not depressed.
I am sure this post rambled on but it is how the thoughts came to me!

Copyright secured by Digiprove © 2012 Margaret Margaret