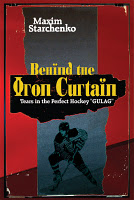 The book is about Maxim Starchenko's experience on Druzhba-78 between 1986 and 1996. The story graphically describes the cruelty and inhumanity of the team's only coach, Ivan Pravilov. He abused and constantly reprimanded his players for his own entertainment and personal satisfaction. The book describes the author's constant struggle for survival and eventual road to recovery. Maxim faced adversity on two fronts, with his coach and his misunderstanding parents, doubling the burden. The author hopes his book will encourage other former players to step forward and make Ivan Pravilov accountable for his actions. More so, it raises an important question of why this monster continues to instruct children and live comfortably in the United States.
My Review
I was totally disgusted that someone could treat people the way the coach treated his players.  Just when I thought it couldn't get any worse the coach would do something that is worse than what was done before.  I can't even imagine what it was like to be treated like these boys were treated.  I will never understand how the parents didn't do anything to stop it or even look into what was going on.  I was shocked that he would go home after some of the incidents and him mom would by his story about getting hit in the head with a puck.  It makes me sad to think that things like this could still be going on and no one will stop it.  I wonder how many people really knew what was going on but didn't say anything or try and stop it.
I am so glad that he wrote this book and I hope that it will open peoples eyes.  I hope that after people read this book they will stop any abuse that they see going on or that they think might be going on.  I am truly surprised that the man who wrote this never died from some of things he was put through.   I think everyone should read this book and have their eyes opened to what goes on in other countries.
FTC-Received this book from Dorrance Publishing in exchange for my review.  The opinions in this review are 100% mine and I received no other compensation.

Copyright secured by Digiprove © 2012 Margaret Margaret