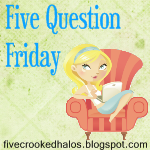 Questions for Friday, 2/26/10
: (Special thanks to:
Lily
,
Thorney
London
,
Maryanne
,
Renee
, and
moi
! Do
you
wanna be linked in a future 5QF? C'mon over
here
, to my community, and offer up your question suggestions!)
1.
Do you sing karaoke? If so, what is your go to song?
No I don't sing karaoke. I am to shy to even try and attempt it.
2. What is your favorite coffee drink?
I don't drink coffee because I think it tastes like burnt popcorn lol
3. If you could choose your own name, what would it be?
I like the name that I have but if I had to chose I would chose Marie. I am not sure why but I have always like it.
4. Were you ever bullied?
I sure was from about 5th grade until I graduated from high school.
5. How often do you eat fast food?
I try to only eat it a once a week if that. This week I haven't eaten out at all!