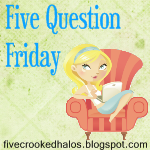 Questions for Friday, February 19th: (Thanks to Renee, Christy, Heidi, Lisa P, and Robin for their question suggestions! Would YOU like to be linked in a future 5QF? Just offer up your best questions here, in my community!)
1. Have you ever hit an animal with your vehicle?
Yes I have hit quail while I was driving to work. I think they are the dumbest birds alive. They see you coming and run out into the road.
2. When you see a string on your clothes do you pull it off or cut if off?
I usually try and pull it off but most of the time I end up cutting it of because my hands are very strong anymore because of the MS and the fact that they are numb.
3. Did you have your own room or share a room when you were young?
I have always had my own room. I don't know how to share a room so even though I have been married I am still not good and sharing a room or my bed.
4. Would you rather wear the same thing for the rest of your life or eat the same thing for the rest of your life?
Wear the same thing. It doesn't matter to me if I wear the same thing every day. Whats bugs me is always eating the same thing.
5. What was your favorite TV show as a child?
I didn't watch much TV as a child so I really have no idea what I did watch.