Mama M is doing 5 Question Friday again and I have decided that I am going to follow along with her this week and I am going to skip letters. I have had a lot going on the past few days and just don't wanna really do letter writing this week. I will back to my regular stuff next week I hope!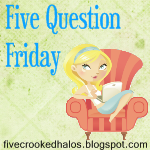 Questions for Friday, 2/5/10
: (Thanks to
Pam
,
Christine
,
Liz
,
Tara
, and
Renee
for their question suggestions! Wanna be linked in a future 5QF? Just c'mon
over here
, to my community, and offer up your best questions!)
1. What are you most afraid of?
Heights I hate even being on the top level of the mall and going over to the edge and looking down. I have never liked them and don't think I ever will like them.
2. Do you use a flat iron or curling iron?
Both at times. My hair is natural fizzy so I have to use a flat iron an then curl with a curling iron if I am leaving it down which hasn't happened like 6 months.
3. Hands-free or phone to the ear?
Mostly hands free I had hold my phone to my ear it bugs me and limits what I can do while I am no the phone.
4. Do you have a matching bedroom set?
No I don't-I don't want one either. I love my mismatched stuff.
5. Do you believe in the paranormal?
Yes I do In fact I see spirits a lot anymore.